Sales Have Ended
Ticket sales have ended
Online ticket sales have ended. Please contact us to see if any further tickets or paddles will be available at the door.
Sales Have Ended
Ticket sales have ended
Online ticket sales have ended. Please contact us to see if any further tickets or paddles will be available at the door.
Description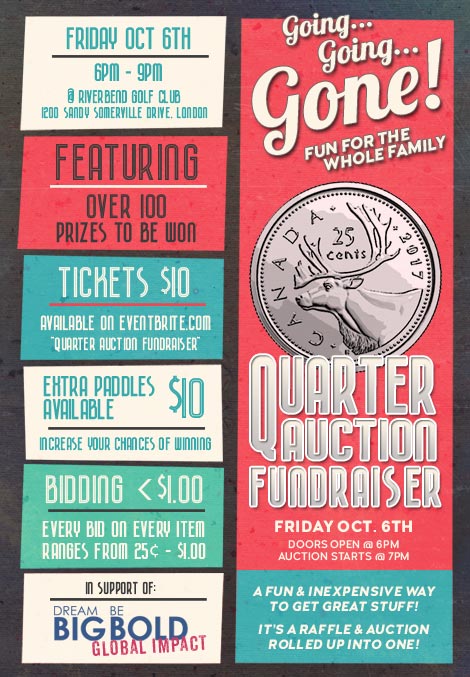 The Most Inexpensive fundraiser where you can win great prizes!
$10 to Reserve Your Seat
With every seat purchased for $10 you get one numbered paddle. When you arrive you will be given your numbered paddle and a program. Your numbered paddle will be what you use to bid on the items and services being auctioned off.
You do have the option to purchase additional paddles for $10 each; doing so will increase your chances of winning items. One bid, yet multiple chances to win!!
Due to limited seating, no extra "watchers" will be able to attend the event without paying for their seat. Children are welcome to attend with their family. Everyone in attendance must have purchased at least one regular seat (paddle).
Before The Auction 6pm – 7pm
Before the quarter auction actually starts, you'll have a chance to walk around the room and view the items. There will also be a refreshment cash bar available for attendees.
The Auction 7pm – 9pm
When the auction starts, the MC will to go over the rules for the auction to ensure that everyone is clear about how it works.
The MC will then let you know how much it costs to bid on the item; it's traditionally only a quarter, but there might be different levels depending on how much an item is worth.
For example, if you're bidding on a manicure that would normally be worth $25, the bid might be set at a quarter. If a bed and breakfast has provided a weekend stay that would normally be worth $200+, the bid might be set at $1 (4 Quarters). All bids at the event will be between 1 quarter to 4 quarters. (Truly nothing over one dollar!)
There will be a pot in the middle of the table, so put your quarter(s) in there if you wish to bid and raise your numbered paddle. Volunteers will come round and collect the quarters from each table.
The MC will then draw a number out of the drum at random. If that number matches the number on the paddle of someone who has bid on the item, they win the prize. However, if the person the number belongs to didn't bid on it, another number is drawn. This is done until there's a winner.
All of the numbers which have been drawn for an item are then put back in the drum by the MC – this means that you have an opportunity to win more than one item during the event.
This process continues throughout the auction until all of the items have been won.
Multiple Bids
As we mentioned above in the 'Entrance' section, you have been given the opportunity to purchase more than one paddle.
This means that you can bid on an item once and have multiple chances to win, which is perfect if there's an item you really want to win!!
After The Auction
Make sure you collect any items you won if they're not handed out during the auction itself.
If you have any quarters left over, consider donating them to the charity that the auction is benefiting.
Bring your rolls of quarters and get ready for a fun night!
The Quarter Auction Fundraiser Event will benefit the Dream Big Be Bold Global Impact Mission Team, which will be serving in Guatemala in from November 10th – 20st. From clean water projects, to community building initiatives this team will be investing all money raised into meeting the needs of poor communities in three areas of the country.
Thank you in advance for your support and to all of the many donors who are making this event possible.