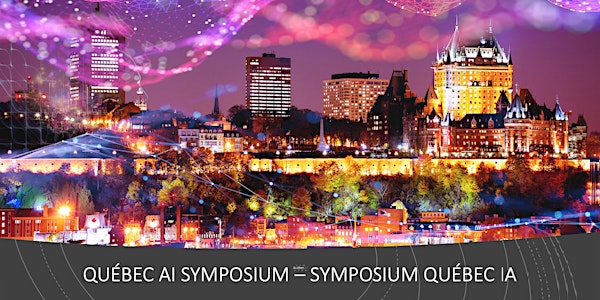 QUEBEC AI SYMPOSIUM - SYMPOSIUM QUEBEC IA
QUEBEC AI SYMPOSIUM - SYMPOSIUM QUEBEC IA
About this event
* AVANT-PROJET — PRELIMINARY DRAFT
*** L'événement n'est pas définitif. La description de l'événement est préliminaire et peut être modifiée sans préavis. Ainsi, le lieu et la date ne sont pas encore définitifs et peuvent changer. D'autre part, en cas d'un important imprévu hors de notre contrôle, l'événement sera remis à une date ultérieure. ***
QUEBEC AI SYMPOSIUM — SYMPOSIUM QUEBEC IA
Le SYMPOSIUM QUÉBEC IA, administré par MONTRÉAL.IA et QUÉBEC.IA, est un événement pour stimuler l'activité économique, la recherche et l'innovation en intelligence artificielle au Québec et ainsi contribuer à la compétitivité du Québec et à son rayonnement national et international.
The QUEBEC AI SYMPOSIUM, administered by MONTREAL.AI and QUEBEC.AI, is an event to stimulate the economic activity, research and innovation in artificial intelligence in Quebec and thus contribute to the competitiveness and influence of Quebec nationally and internationally.
Montréal est une ville qui s'illustre à une échelle internationale par sa recherche universitaire en intelligence artificielle. Cela dit, d'autres villes du Québec (notamment Sherbrooke et Québec) ont aussi des activités de recherche et développement qui ne sont pas négligeables.
Dans l'intérêt général, le Symposium Québec AI veut réunir les chercheurs(ses), les entrepreneur(e)s et le grand public pour créer une synergie d'inclusion de coopération autour de l'intelligence artificielle.
LES GRANDS DÉBATS | THE GREAT DEBATES
❖ L'IA pour les changements climatiques — AI for Climate Change
❖ L'éthique et la gouvernance à l'ère de l'intelligence artificielle — AI Governance, Ethics and Safety
❖ IA, causalité et raisonnement —AI, Causality and Reasoning
DÎNER DE PRESSE | PRESS DINNER
❖ Dîner de presse de QUÉBEC.IA
❖ QUEBEC.AI Press Dinner
DÎNER DES AMBASSADEURS | AMBASSADORS DINNER
❖ Dîner des ambassadeurs de MONTRÉAL.IA
❖ MONTREAL.AI's Ambassadors Dinner
PRIX QUÉBEC IA | QUEBEC.AI AWARD
❖ Célébration QUÉBEC.IA des chefs de file de l'industrie de l'IA
❖ QUEBEC.AI Captains of AI Industries Celebration
GALA DE BIENFAISANCE | CHARITY GALA
❖ Gala du Mérite philanthropique de MONTRÉAL.IA
❖ MONTREAL.AI Philanthropic Award Gala
Nous souhaitons encourager la démocratisation de l'intelligence artificielle, la collaboration et le dialogue sur des grands enjeux entourant l'intelligence artificielle avec l'ensemble des disciplines.
Des exposés magistraux, des ateliers, des tables rondes, des activités de réseautage et beaucoup plus seront à l'honneur tout au long de la journée pour exalter l'état du discours et aider la coordination sur des questions de grande importance.
Il est également possible de se joindre à nous comme commanditaire, comme partenaire ou comme bénévole.
MONTRÉAL.AI (WWW.MONTREAL.AI) est une entreprise de recherche à la fine pointe de l'intelligence artificielle (IA), qui développe et commercialise la technologie la plus importante jamais inventée par l'Humanité.
MONTREAL.AI (WWW.MONTREAL.AI) is a research Company at the forefront of the artificial intelligence field developing and commercializing the most significant technology ever created by humankind.
Les détails de l'événement seront diffusés au cours des prochaines semaines.
Event Location: Montreal (Quebec), Canada
FAQs
How can I contact the organizer with any questions?
The General Secretariat of MONTREAL.AI : secretariat@montreal.ai