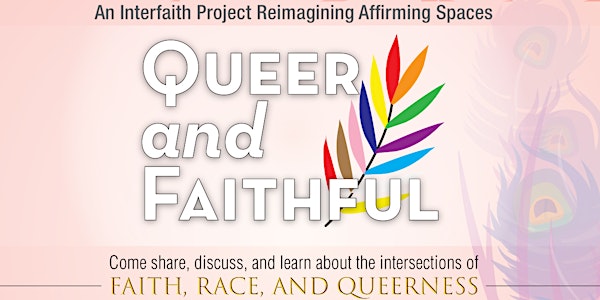 Event Information
Location
Robert A Steen Community Club
980 Palmerston Avenue
Winnipeg, MB R3G 1J9
Canada
An interfaith project, reimagining affirming spaces.
About this event
Queer and Faithful is a two day event featuring 2SLGBTQ+ speakers from diverse religious/spiritual and cultural/ethnic backgrounds. Come share, discuss, and learn about the intersections of Faith, Race, and Queerness.
DATES / TIMES:
May 25th 9:30 am - 3:30 pm
May 26th 12:00 pm - 4:00 pm
Robert A. Steen Community Centre (980 Palmerston Ave)
REGISTRATION: Please register in advance . If the $10 registration fee is a barrier for you, or if you have any questions, please contact us at QueerAndFaithful2019@gmail.com
CENTRING 2SLGBTQ+ people of colour: Through the conference, we will highlight the voices of 2SLGBTQ+ people of colour and newcomers as organizers, speakers, and participants. All allies are welcome to participate in a way that honours the centring of 2S/QTPOC voices from beginning to end.
PANELS / ROUNDTABLE DISCUSSIONS: There will be two panel sessions with opportunities for roundtable discussions, centring on our personal experiences. We hope to explore themes of trauma, family, resilience, hope, hiding, privilege, Islamophobia, intersectionality, and more.
SCHEDULE & SPEAKER BIOS: see bit.ly/QFFacebook
- - SATURDAY - -
Charlotte Nolin, Muhammad Ahsan, Tia Oberoi, TBA
Mod: Mary Basta/Jennifer Stadtmiller
- - SUNDAY - -
Chantal Fiola, Ava Garfinkle, Dione Haynes, TBA
Mod: Shayna Plaut
KEYNOTE SPEECH/WORKSHOP PRESENTER: Jenna Tenn Yuk (https://www.jennatennyuk.com)
- Exploring identity and the intersections of race, queerness and faith through personal storytelling, spoken word poetry and facilitation
- Creating spaces for inter-faith conversations around intersectionality, privilege, social location, etc
- Learning how to create safer spaces for Two Spirit and LGBTQ+ people of colour in faith-based environments.
- Safe space to ask questions and explore the issues as a community
ALL ARE WELCOME!
Date and time
Location
Robert A Steen Community Club
980 Palmerston Avenue
Winnipeg, MB R3G 1J9
Canada