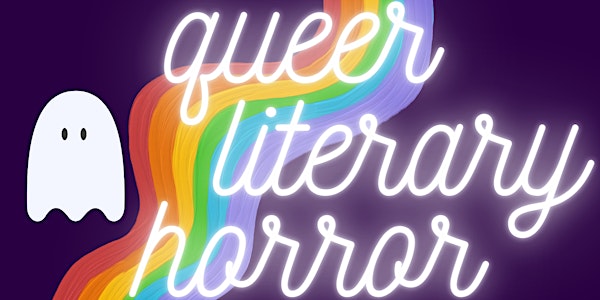 Queer Literary Horror: Reading and Disucssion
Join Nic Brewer, Emily Kellogg, Anuja Varghese, and Andrew Wilmot for a reading and discussion on queer literary horror
When and where
Location
Little Ghosts 930 Dundas Street West Toronto, ON M6J 1W3 Canada
About this event
Join Nic Brewer (Suture), Emily Kellogg (Parkdale Haunt), Anuja Varghese (Chrysalis, forthcoming 2023), and Andrew Wilmot (The Death Scene Artist) for a reading and discussion on queer literary horror, at specialty Toronto bookstore and cafe Little Ghosts!
Accessibility information: barrier-free access to main floor, but stairs to washrooms and to outdoor patio. Staff masks are mandatory, and panelists will be masked as well; we strongly recommend attendees mask for this event, although food and drink will be available. No online access or recording is planned for this event at this time.
Nic Brewer (she/they) is a queer writer and editor from Toronto. She writes fiction, mostly; her first novel, Suture, was published by Book*Hug in Fall 2021. She is the co-founder of Frond, an online literary journal for prose by LGBTQI2SA writers, and formerly co-managed the micropress words(on)pages. She doesn't look like her author photo, doesn't have an MFA, and really wants to hear about what you love most in the world. She lives in Kitchener with her wife and their dog.
Emily Kellogg (she/her) is a Canadian-American writer, editor, educator, and veteran book publishing professional currently based in Toronto, Ontario. Her work has appeared in publications such as The Globe and Mail, The Humber Literary Review, Minola Review, The Puritan, and Room Magazine. Emily is the co-creator and co-writer of the multiple award-winning horror fiction podcast, Parkdale Haunt.
Anuja Varghese (she/her) is a Pushcart-nominated writer based in Hamilton, Ontario. Her work appears in Hobart, The Malahat Review, The Fiddlehead, Plenitude Magazine, and others. Anuja serves as a board member for gritLIT, Hamilton's literary festival, and also as Fiction Editor for The Puritan Magazine. Anuja has work forthcoming in "Queer Little Nightmares," an anthology of queer monster stories from Arsenal Pulp Press and her debut short story collection will be released in spring 2023 with House of Anansi. She is featured in "When Other People Saw Us, They Saw the Dead," an anthology of BIPOC gothic horror available now wherever you buy books. She is currently pursuing a Creative Writing Certificate from the University of Toronto while working on an adult fantasy novel set in medieval India. Anuja can be found on Instagram (@anuja_v) and Twitter (@Anuja_V), or by visiting her website www.anujavarghese.com.
Andrew Wilmot (they/them) is an award-winning writer and editor, co-publisher of the magazine Anathema: Spec from the Margins, and an associate editor for Poplar Press. Their first novel, The Death Scene Artist, an epistolary horror story of body dysmorphia, gender dysphoria, and self-destruction, is available from Buckrider Books/Wolsak & Wynn.