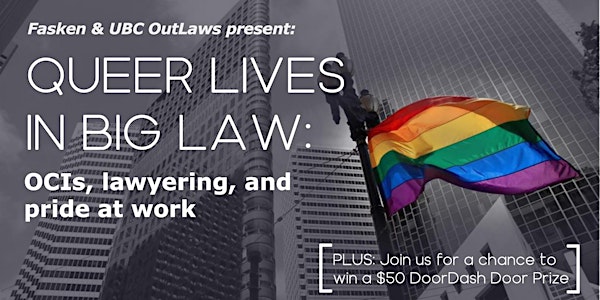 Queer Lives in Big Law
A conversation with lawyers from some of Vancouver's largest law firms to discuss being out in corporate law
About this event
Fasken and UBC OutLaws present: Queer Lives in Big Law, a conversation on OCIs, lawyering, and pride at work.
Join us to hear Grace McDonell, Kevin Hill, Sarah McCalla, and Dustin Klaudt speak about their experiences being out in corporate law. The panel will be a chance to hear from these amazing folks about what brought them to corporate law in the first place, and what informed their decision to stay at (or move on from) a big firm. There will be ample question time for you to ask your most pressing questions about everything from applying to to working for a large firm. If you wish to submit questions anonymously in advance, you can do so here: https://forms.gle/aPrsEw6DvVi73dt59.
The event is free but please sign up for a ticket to receive the zoom link and to be entered in a draw to WIN a $50 DoorDash gift card! (Courtesy of Fasken.) Everyone is welcome, regardless of identity, and we look forward to welcoming allies and members alike!