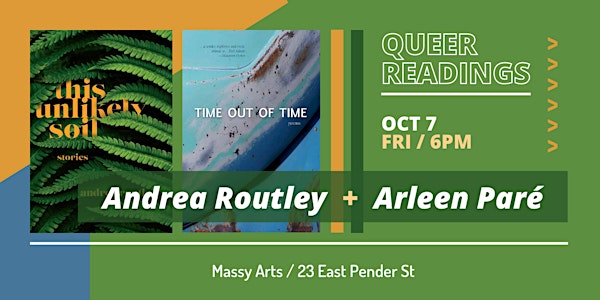 Queer Reading Event / Arleen Paré + Andrea Routley
Join authors Arleen Paré + Andrea Routley for a double launch of queer books.
When and where
Location
Massy Arts Society 23 East Pender Street Vancouver, BC V6A 1S9 Canada
Refund Policy
Contact the organizer to request a refund.
Eventbrite's fee is nonrefundable.
About this event
On Friday, October 7 at 6pm, join Massy Arts, Massy Books, and Caitlin Press + Dagger Editions for the double launch of Time Out of Time by Victoria-based poet Arleen Paré, and This Unlikely Soil by Vancouver-based writer and editor Andrea Routley.
At this in-person event for readers of queer fiction and poetry, authors will read passages of their books, engage in intimate conversations with the audience, and answer questions about their creative process.
Venue & Accessibility
The event will be hosted at the Massy Arts Gallery, at 23 East Pender Street in Chinatown, Vancouver.
Registration is free, open to all and mandatory for entrance. The gallery is wheelchair accessible and a gender-neutral washroom is on-site.
Covid Protocols: Attendees must wear a mask (N95 masks are encouraged and recommended as they offer the best protection). We ask if you are showing symptoms, that you stay home. Thank you kindly.
The Books
If books come from books, as David W. McFadden has claimed, then Time Out of Time is a clear example, arising, very deliberately as it does, out of Etel Adnan's astonishing collection entitled Time. The poems in Time Out of Time are in love with the poems in Adnan's Time and, it seems, Paré has fallen in love with Time's author, Etel Adnan, the internationally renowned poet and painter--or perhaps it is that she has merely fallen in love with Adnan's words. Paré's poems mirror the form, the rhythm, the shape, the short, brief lines in her own spare missives that are the poems in Time. This mirroring increases the intensity of Time Out of Time, creating a rare intimacy in Paré's collection. Paré's work pays homage to Adnan's work. Both collections pay homage to the world of the lesbian in the twenty-first century and to the world of the small poem. Using clear, crisp, well-defined language in visibly defined geometries, in "stanza after sweet-smelling stanza," Paré attempts to examine the trials of this new century, the hush around the word lesbian, the hush of the world's general collapse.
Purchase Time Out of Time by Arleen Paré at Massy Books
This Unlikely Soil, the sophomore collection from Lambda Literary Award finalist Andrea Routley, is a quintet of linked novellas exploring the failures of kindness and connection among a rural west-coast community of queer women. Funny, incisive and at turns heart-breaking, these stories assert a powerful new voice in contemporary Canadian fiction.
Purchase This Unlikely Soil by Andrea Routley at Massy Books
The Authors
Arleen Paré is the author of seven collections of poetry, including Paper Trail (NeWest Press, 2007), Lake of Two Mountains (Brick Books, 2014), He Leaves His Face in the Funeral Car (Caitlin Press, 2015), and First (Brick Books, 2021). Her work has been short-listed for the Dorothy Livesay Poetry Prize and has won the American Golden Crown Award for Poetry, the City of Victoria Butler Book Prize, a CBC Bookie Award, and a Governor Generals' Award for Poetry. She lives in Victoria, BC, with her wife, Chris.
Andrea Routley is a writer and editor. Her work has appeared in literary magazines, such as Geist and The Fiddlehead Review. In 2020, her novella, "This Unlikely Soil," was shortlisted for the Malahat Review Novella Prize. Her debut collection, Jane and the Whales (Caitlin Press, 2013), was a finalist for the Lambda Literary Award. She is an MFA candidate at UBC (Okanagan) where she is at work on her third book. Though a small-town queer at heart, she currently resides in Vancouver, BC.
The Host
Sara Graefe is an award-winning playwright and screenwriter. As former publications coordinator for BC's Society of Special Needs Adoptive Parents, she authored the bestselling special needs parenting book, Living With FASD: A Guide for Parents and edited the Adoption Piece by Piece trilogy (Groundwork Press). In 2007, she became a proud queer mom and began chronicling her experiences on her blog, Gay Girls Make Great Moms (queermommy.wordpress.com). Her creative non-fiction has appeared in various magazines and anthologies, including Literary Mama, Walk Myself Home, Boobs: Women Explore What it Means to Have Breasts, Telling Truths: Storying Motherhood, Mothers and Sons, and A Family by Any Other Name: Exploring Queer Relationships (finalist for a 2015 Lambda Literary Award). She lives in Vancouver with her wife and school-aged son and is on faculty in the Creative Writing Program at the University of British Columbia.