This is a special invitation to Queered Place: A mini site activation festival!
About this event
JOIN the Queering Place artists in residence & guests for three days of site specific events that queerly activate our earth-art installation at the Garrison Commons - we have been exploring for many months what "Queers a place" and we are excited to invite guests to ponder, deconstruct & answer these questions in their own unique & fabulous ways!
Friday October 22nd, 4-7pm - Queer gathering & storytelling
Saturday October 23rd, 4-7pm - Friends of Queering place: a community gathering
Sunday October 24th, 4-7pm - Artists in Residents Present: A Queer Cabaret
Register for one activation or all!
Queering Place is presented as part of Making With Place - SKETCH's first series of public art projects in which artists consider the complexities of place to animate, amplify and archive creative histories and voices of people and places on the margins. Learn more about all four projects at www.sketch.ca/publicart
PRACTICE PHYSICAL DISTANCING and WEAR A MASK!!
WE MUST BE VIGILANT IN THESE PRACTICES TO KEEP EACH OTHER SAFE. SKETCH is committed to following all Provincial and Municipal COVID-19 protocols, rules and regulations in order to keep everyone as safe and healthy as possible. Screening forms will be sent to registrants 24 hours before the event. Please fill out the screening form. While it is an outdoor event, we ask anyone attending the event to wear a mask to help stop the spread of COVID-19. SKETCH will have masks and hand sanitizer on hand. We thank you for your cooperation and support in helping to ensure community safety.
The installation is located within a grassy park space (which may be challenging for some mobility devices), connected by a gravel & paved pathway. It is possible to drive directly up to the installation via Fort York Drive. There are all gender washrooms & potable water available at the Fort York/Bentway visitor centre during operating hours, reached by stairs on the east side & fort york drive on the west side.
The installation includes tactile, visual & auditory components.
The nearest transit options include:
- 511 Bathurst street car, which is not wheelchair accessible, travelling west and requires walking up an incline through the Bentway.
- The 29 Dufferin kneeling bus then traveling east 9 minutes along the sidewalk to the Bentway. There is a slight incline up Fort York drive towards the park.
- The 63 Ossington kneeling bus then travelling south on Strachan which involves an incline & decline
Queering Place is part of ArtworxTO: Toronto's Year of Public Art 2021 - 2022, and funded by the Government of Canada, City of Toronto, and Canada Council for the Arts. Thank you to our partners at Fort York National Historic Site and Scotiabank Contact Photography Festival.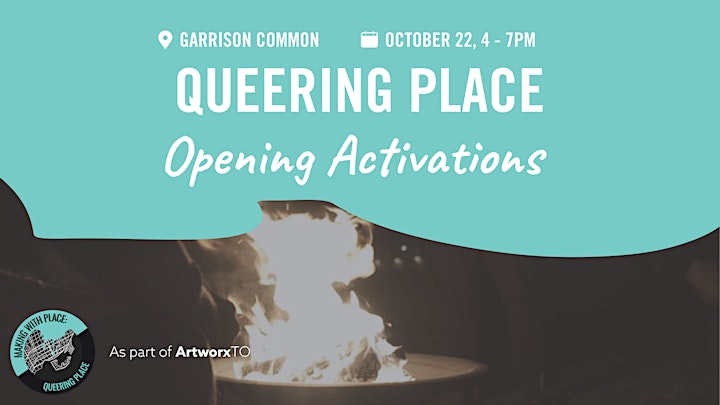 FRIDAY, OCT 22 @ 4-7pm | QUEER GATHERING & STORYTELLING
Gather with us in Garrison Commons, Fort York, as we explore the Queering Place and join in community storytelling, space-holding, and celebration.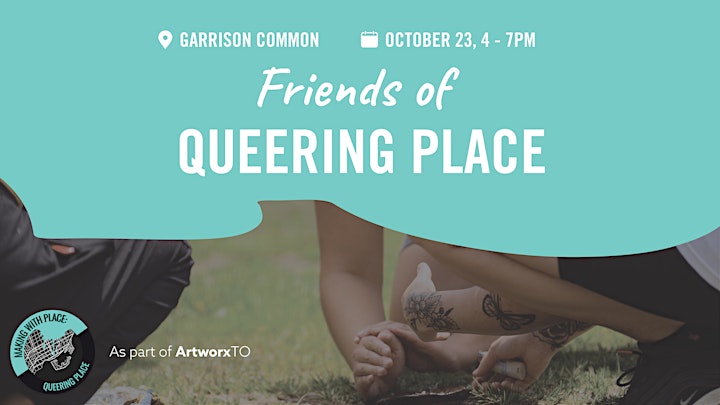 SATURDAY, OCT 23RD @ 4-7pm | FRIENDS OF QUEERING PLACE
JOIN the Queering Place in a day of events featuring friends and guest collectives!
We turn to our community to ask the question "what makes a place queer?" With the help of friends from the Kapwa Sanctuary, PartyPeople, and others, we explore what queerness means as artists, performers, healers and community members.
These are some of the themes bound to come up in the work and discussion:
Decolonization
Drag and gender performance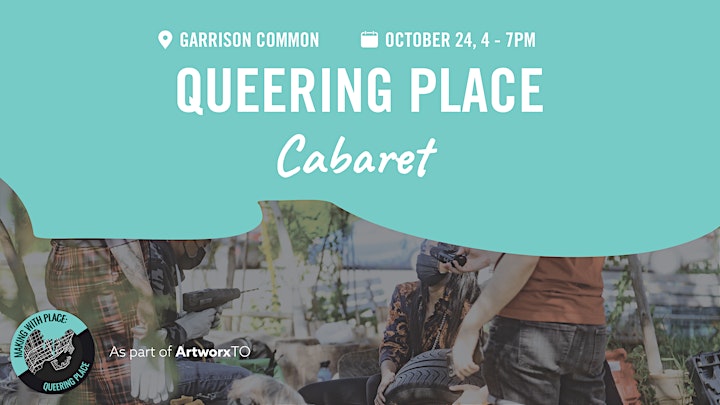 SUNDAY, OCT 24th @ 4-7pm | QUEERING PLACE PRESENTS: A QUEER CABARET
JOIN the Queering Place artists in residence in a final cabaret and showcase from the 6 artists-in-residence.
In exploration of the question "what does it mean to make a place queer?" The Queering Place artists will be activating Garrison Commons through sound, art, and live performance. Performances from: The Noise Witch, Maddie Lycheck, Em Dial, Bert Whitecrow, and Pogi the Artist.
Organizer of Queering Place Presents: Queered Place - A Mini Site Activations Festival