Description
QUENCH DOWNTOWN CRAFT BEER FESTIVAL
Sunday, July 15, 2018
12 noon to 5 pm
Market Square, Downtown St. Catharines
Craft beer vendors, food vendors, live music, ping pong and games on a Sunday afternoon in Downtown St. Catharines!
Sample, sip, swing your paddle and sway to the music while you get quenched.
Tickets are $20 in advance (purchase by 11:59pm Saturday, July 14, 2018) or $25 (cash only) at the door.
Admission includes a cool sampling mug and 4 food & beverage tokens. Additional food & beverage tokens will be available for purchase for $2 each (cash only). 4 oz. beer samples are 1 token each. Food items are 1 to 5 tokens.
Bring your friends and get quenched! 19+ Event.
Brought to you by the St. Catharines Downtown Association. scda@mydowntown.ca or call 905-685-8424 for more information.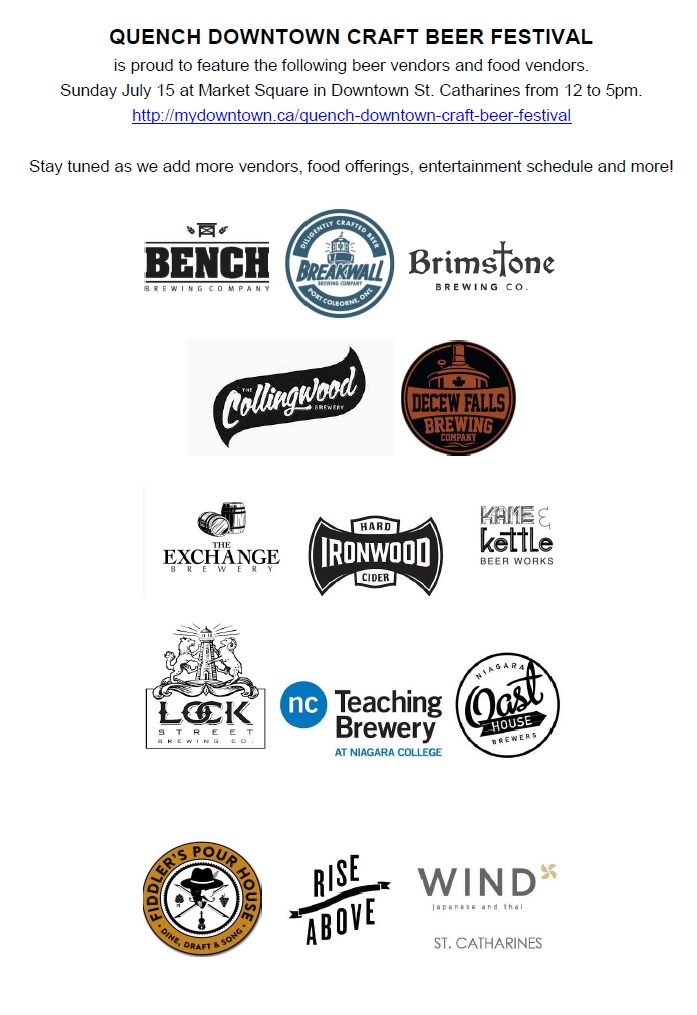 Please visit retail vendor Pretty Pennie Jewellery on site, and enjoy live music from:
12:00pm Jessica Wilson
1:00pm Nicole Marie Music
2:00pm Nolan Jodes
3:00pm Mason Vail
4:00pm The Bae Beach Club