Description
Join fellow BC thought leaders at Vancouver's 1st Customer Lab and dive into Lean Design Thinking to elevate your Customer Experience (CX).
Learn how to build and accelerate your organization's customer-centered design, innovation, and delivery capabilities, and the culture and structures needed to sustain your competitive advantage while taking in sweeping views of English Bay, Vancouver Island and the Gulf Islands from the rooftop boardroom at 745 Thurlow.
QueryCX welcomes workshop facilitator and CX expert, Mike Kendall, Managing Director at The Customer Lab. Mike will lead executive leaders and their teams through new tools, and ways of working that accelerate the pace of CX, while reducing lead times, development cost, and exponentially increasing the odds of delivering the right solution for your customers quickly.

Tickets are $299 per person and include full access to the workshop and a catered lunch for all attendees.
Spaces are limited! Register now.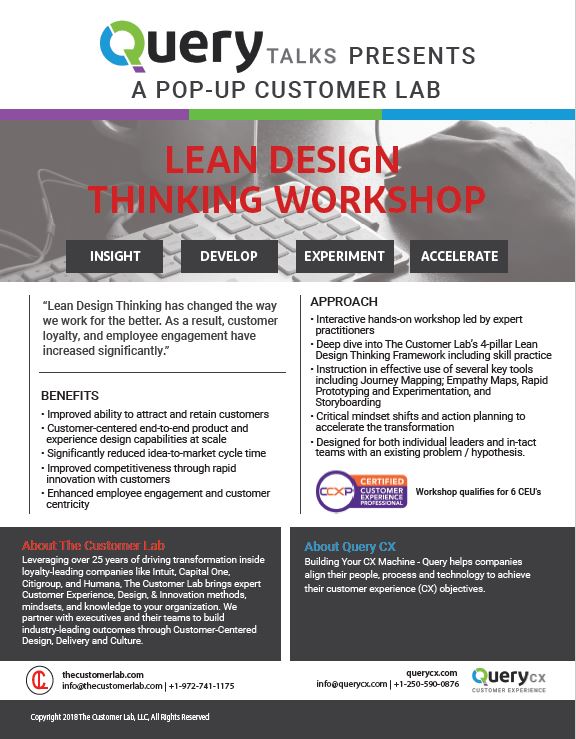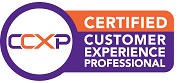 For all Certified Customer Experience Professionals: This workshop qualifies for 6 CEU's with the CXPA!


About Mike Kendall
Leveraging over 25 years of driving transformation inside loyalty-leading companies like Intuit, Capital One, Citigroup, and Humana, Mike Kendall (@DelightApostle) brings expert Customer Experience, Design, & Innovation methods, mindsets, and knowledge to organizations around the world. As Managing Director of The Customer Lab, Mike partners with executives and their teams to build industry-leading outcomes through Customer-Centered Design, Delivery and Culture. In addition to founding The Customer Lab, Mike served as Director of Customer Experience at Capital One where he helped re-imagine banking to deliver awesome customer experiences. He co-founded Humana's award-winning FastStart Lean Experience Innovation Lab, led Customer Experience at Intuit, and held several global customer and operations leadership roles at Citigroup. He is a Senior Impact Coach with Moves The Needle, is Net Promoter Certified, a Lean Six Sigma Master Black Belt, served as a Senior Examiner for the U.S. Baldrige National Performance Excellence Program, and was one of Intuit's early Innovation Catalysts apply Stanford school methods.
thecustomerlab.com

About Query
Query Corp. is on a mission to assist companies in aligning people, processes and technology to achieve their customer experience objectives. Query CX services provide a holistic approach to integrated customer experience, while Query Technologies specifically leverages technology and introduces optimal ways to align people and process. Query Talks is an inspirational speaker series featuring international experts in diverse fields such as customer experience, health care and business.
querycx.com

For event information or sponsorship opportunities:
Emily Weiss
250.220.4565
Media Contact
Mark C. Smith, Chief Experience Officer
250.590.0876