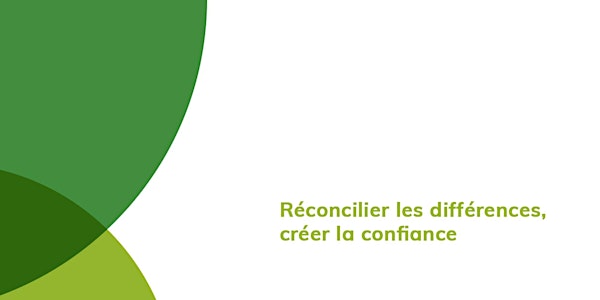 Qu'est-ce que la confiance? - Dialogue sur l'importance de la confiance
Venez explorer de nouveaux outils pour réfléchir à l'importance du dialogue et de la confiance!
About this event
Cet atelier vise à donner des bases pour un dialogue en profondeur autour du thème de la confiance, qui est l'un des fondements d'une paix durable. Il permettra aux participant-es d'acquérir une compréhension de certains éléments fondamentaux pour le dialogue autour de sujets complexes. Notre organisme travaille depuis de nombreuses années sur le dialogue et la confiance, c'est donc l'occasion de partager plus largement certains outils. Anne Cloutier, doctorante en philosophie dans le domaine des communautés de recherche philosophique (CRP) et possédant une solide expérience en animation, fera expérimenter aux participant-es la richesse de ces outils.
This workshop is designed to provide a basic understanding of important notions fundamental to dialogue around the theme of trust, a crucial basis for peace. It aims at providing participants with new skills and understanding of key elements for dialogue on complex topics. Our organization has worked for numerous years on peacebuilding and trustbuilding, this workshop is a way for us to share more widely this experience. Anne Cloutier, a PhD student who specializes in the methodology of Communities of Philosophical Enquiry (CPE, or philosophy for children), and has a wide experience in facilitating such workshops, will give participants the opportunity to experiment these tools.