About this Event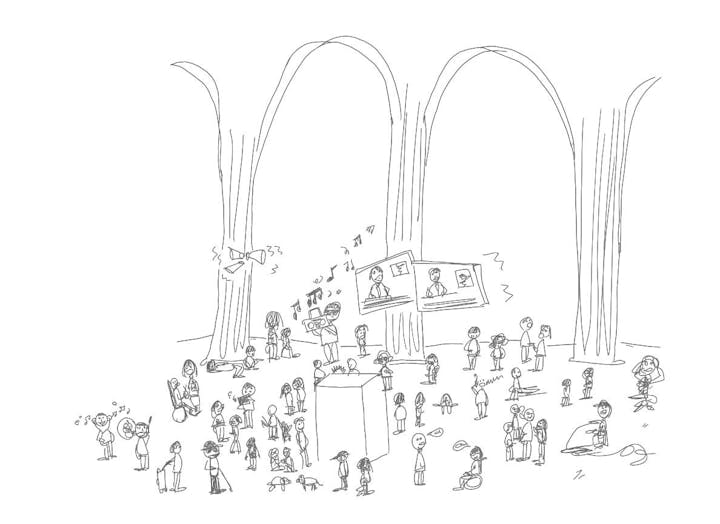 Invisible in nature, we are rarely given consent to the unwanted auditory sounds imposed on us and are often forced to listen to these sounds, even if we don't want to. In many contexts, we've been normalized to accept and tolerate these ambient sounds. For example, we don't go to a restaurant to be in a room with ambient noises exceeding 80dB, rather we go for the food. The amplification of noise through technology, more densely populated urban centres, restaurants and public spaces playing music louder than ever, the ubiquity of open-concept workspaces -- all increase noise in everyday lives.
According to the World Health Organization, noise pollution is the second greatest form of pollution after environmental pollution. Yet, we continue to live in a noise culture, where our world only seems to be getting louder. Research has validated the negative impacts of repeated exposure to loud sounds have on our health and wellbeing (heart disease, neurological development, and stress levels). The more consideration that is given to sound engineering and oral design within our built environments, the more inclusive society and public spaces would be, particularly for people who experience some form of hearing loss (nearly a quarter of our population) and people who live with sensory stimuli processing challenges.
Join Speculative Futures Ottawa and artist Kanika Gupta as we explore how sound and the sound barriers that exist in our daily lives can be made visible, and what choices can we make today to allow for a quieter and more inclusive future.
Snacks and light refreshments will be provided.
Bring your kids if they wanna come :)
Agenda
6pm Doors Open
6:30pm - 6:45pm Introduction w/ Kanika Gupta
6:45pm - 8:00 pm Workshop: What would a quieter future look like?
8:00pm - 8:30pm Clean up and go home
If you need assistance or require accommodation, please contact the organizers or specify when you make your RSVP. We aim to make this event inclusive to our best abilities.
*This is a free event. If you enjoy our monthly efforts to bring you interesting future-inspired topics, please support us by selecting the ticket type "sponsor this event". Thanks!
Background:
The SoundPrint is a comprehensive research and experimentation collaborative art project which intends to create an immersive, interactive, and inclusive public art Installation asking the research questions:
(1) How to use art as a medium to make sound barriers visible and audible
(2) How to create greater awareness on the unintended impacts of sound barriers. My hope is that my work will sensitize people to sound as a dimension of public life that can be exclusive, that participants gain a different understanding of sound, both the sounds they produce and impose (knowingly and unknowingly) on others, what gets tolerated (consciously and subconsciously) and what agency they may or may not have on what is heard.
The SoundPrint is currently funded by Ontario Arts Council and Canada Council for the Arts.
Kanika Gupta is a visual artist and graphic storyteller that uses art as her language to break invisible barriers and challenge cultural views on beauty, wholeness and worth.
Her artwork has been presented in public spaces, museums and in galleries across Ontario. She collaborates with cultural institutions and organizations to make their practices and physical environments more inclusive through breaking both physical and invisible barriers to access. Named among Canada's Top 100 Most Powerful Women, Kanika's work has been profiled internationally and she is a recipient of multiple artistic grants. Her work can be seen at www.byKanika.com.