Location
Campagnlo ROMA
2297 E Hastings St
Vancouver, BC V5L 1V2
Canada
Description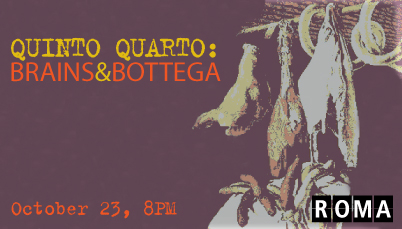 In partnership with Bottega Family Wines, Campagnolo ROMA presents a very special Quinto Quarto: Brains and Bottega. On Wednesday, October 23, eight delicious dishes celebrating offal and paired with Bottega Family Wines will be served family style at communal tables.
Chef Nathan Lowey will showcase the versatility of organ meat in a variety of dishes. This is by far the most approachable Quinto Quarto yet, and the most decadent.
Quinto Quarto: Brains & Bottega Menu
Antipasto:
'Puffed Beef Tendon, agro Dolce'
'Crispy Pig Ears, aioli'
'Chicken Fried Pig's Trotters, salsa vatican'

Primo:
'Bucatini alla Senepe Verde'
mustards, pig skin, pecorino, uovo anatra

Secondo:
Stuffed Beef Heart Conserva
sweetbreads, black truffles, drippings

Contorno:
Caramelized Parsley Root

Dolce:
Dark Chocolate and Pig Brain Torte
stewed pears
Tahitian Vanilla Soft Serve
candied duck crackling
Quinto Quarto: Brains & Bottega Details
Date: Wednesday, October 23
Time: 8:00PM
Address: Campagnolo ROMA 2297 E. Hastings St.
Price: $74