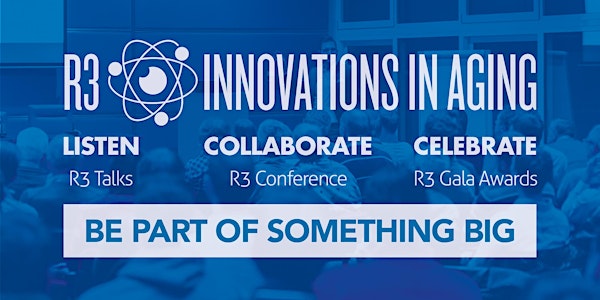 R3 - Innovations in Aging - ALL ACCESS PASS
When and where
Location
Fredericton Fredericton, NB Canada
Description
R3 has a distinct mission – to promote the exceptional work undertaken by our N.B. research institutions and local community researchers.
This year's 10-year anniversary event promises to be unlike any other, with:
A new, collaborative approach

Extended 3-day format with something for everyone

$165,000 in total NBIF research funding to be awarded

Three Research Innovation Award winners awarded $50,000 each in NBIF research funding

One Viewer's Choice recipient awarded $15,000 in NBIF research funding

Timely theme of Innovations in Aging
Who should attend:
Community members

Students

Researchers

Health workers

Seniors

Caretakers

Business Professionals

Government officials
R3 Talks
April 10th, 2018
19:00-21:00, Fredericton Playhouse
Join us for a short series of thought-provoking talks from New Brunswick's top researchers in healthy aging.
The evening will be hosted by award-winning British comedian James Mullinger, who now resides in New Brunswick.
Meet local researchers and learn about their fascinating work and the tremendous impact innovative research can have on our every day lives.
R3 Conference (Click to purchase tickets for Conference only)
April 11th&12th, 2018
9:00-16:00, Crowne Plaza Fredericton
Two-day sessions that will include a keynote address, success stories, case studies, and hands-on workshops to foster collaborative action between the community, government, industry and researchers. Sessions are an opportunity for cross disciplinary researchers to unite and work together to explore innovations in aging.
R3 Gala (Click to purchase tickets for Gala only)
April 12th, 2018
18:30-21:00, Fredericton Convention Centre
Join us for an elegant and entertaining evening gala to recognize excellence in New Brunswick research.
Five research finalists will be honored and three will be awarded a Research Innovation Award and $50,000 each in NBIF research funding. In addition, one CBC Viewer's Choice recipient will be awarded with $15,000 in NBIF research funding.
The evening entertainment will include a powerful keynote delivered by Ashton Applewhite, Ageism Expert and Author of This Chair Rocks.
* Discount pricing available to seniors (60 years of age and older) and students. Specially-priced All Access passes available to attend all R3 events: R3 Talks, R3 Conference, and R3 Gala.
Visit www.R3event.ca to learn more and see accommodations packages.
The New Brunswick Innovation Foundation (NBIF), the New Brunswick Social Policy Research Network (NBSPRN), and the New Brunswick Health Research Foundation (NBHRF) have partnered to collaboratively create this 3-day R3 experience that will inspire, educate, and provoke meaningful conversation.
Exclusive sponsorship opportunities are now available, and interested companies may contact Vanessa Matthews at vanessa.matthews@nbif.ca.