R.A.C.E. Against Workplace Bullying!

Thursday, 29 October 2015 from 8:15 AM to 11:30 AM (EDT)
Event Details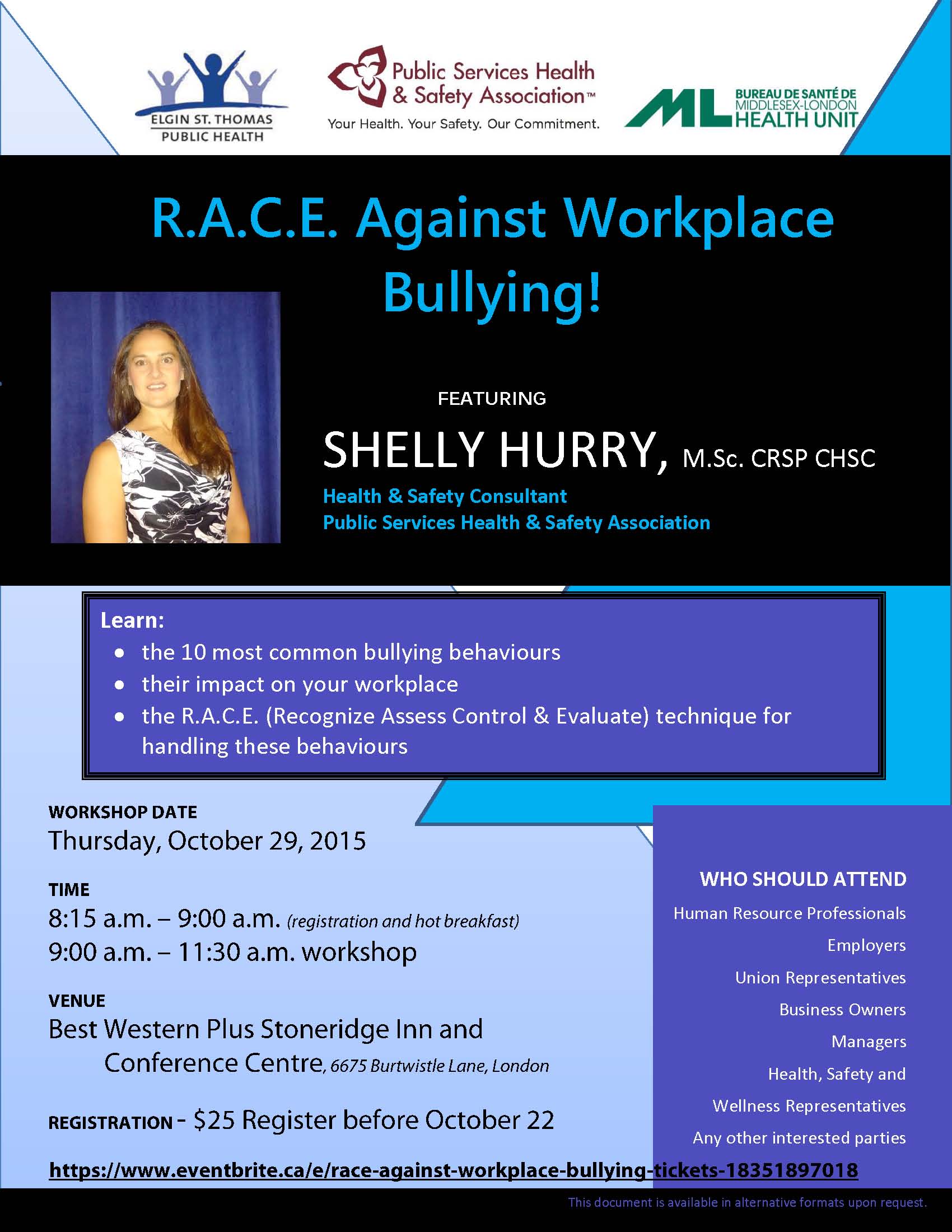 R.A.C.E. Against Workplace Bullying
                                                                                                                                                                                                                          Presentation Description
Workplace Bullying is not a new phenomenon. It is an existing issue that continues to receive heightened attention from employers, unions, health & safety professionals and researchers.
To develop a culture of respect, civility, trust and honesty it is critical for an organization to identify the 10 most common bullying behaviours, the conditions and stages that lead to them and the impacts such behaviours can have on the workplace and those targeted.
This session will provide participants with the appropriate responses to bullying behavior and how to use the R.A.C.E. (recognize, assess, control, evaluate) technique for handling potential cases of these behaviours in your workplace.
Learning Outcomes
1. What are Counter Productive Behaviours?
2. Workplace Bullying: The impact on the organization and the victim
3. How to R.A.C.E. against Workplace Bullying (recognize, assess, control, evaluate)
Presentation Format
1. Lecture Style
2. Group Work/round table discussion
What You Will Learn 
1. Bullying is an aggressive behaviour of harassment and violence. Bill 168 involves the creation of policies and guidelines to prevent violence, and harassment in the workplace. Learn how to create these documents and what to include.
2. Bullying in an organization can be expensive for the employer, have an impact on the mental health of all employees, decrease productivity and thereby undermine company success. Learn how to control the costs and ensure productivity.
3. This presentation will assist an organization in the development of a culture of respect, civility, trust, and honesty. It will also help them to define what Counter Productive Behaviours are.
4. This session will equip the organization with a 4 step process to minimize the direct and indirect costs associated with Workplace Bullying.
Please forward questions for Shelly Hurry to sandy.richardson@mlhu.on.ca.   Your questions will be addressed at the workshop.
When & Where

Best Western Plus Stoneridge Inn & Conference Centre
6675 Burtwistle Lane
London, Ontario N6L 1H5
Canada

Thursday, 29 October 2015 from 8:15 AM to 11:30 AM (EDT)
Add to my calendar
Organizer
For more information please contact Sheila Montague at 519-663-5317 ext. 2433 or sheila.montague@mlhu.on.ca or Eleanor Paget at