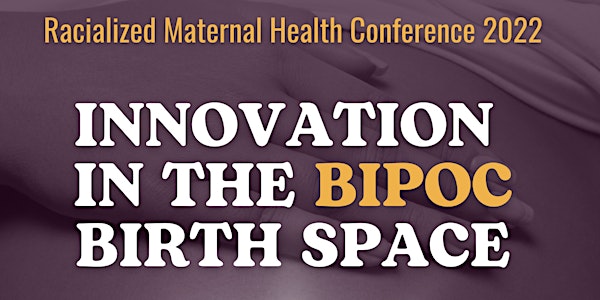 Racialized Maternal Health Conference 2022 (RMHC2022)
Join us as we create a space for conversations about perinatal health equity.
About this event
Event Description
The Racialized Maternal Health Conference (RMHC) brings together clinicians, students, community members, policy makers, and researchers, for discussions on racialized maternal health. The theme of this year's conference is: Innovation in the BIPOC Birth Space. Through talks, panel discussions, and poster presentations, this conference aims to educate, inspire dialogue, and create opportunities for networking and change within the Canadian maternal health system. Tickets to this conference will be made available starting: September 10, 2022. Refunds will not be provided.
Abstract Submissions
If you are interested in sharing your research or program findings at the conference through an oral or poster presentation, you can submit your abstracts here.
Vendor Applications
We will be offering organizations and businesses the opportunity to showcase their products and services RMHC2022 as vendors. If you would like to learn more about being a vendor at this conference, or are interested in submitting a vendor application, you can do so here .
Innovation Showcase
We want to share your innovative technologies focused on women's health, perinatal health, infant health and/or parenting. If you are interested apply here.
A link to the conference will be provided with your registration.