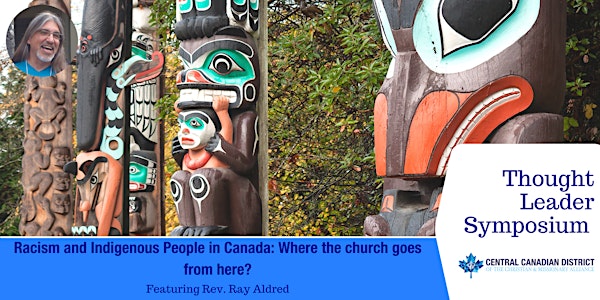 Racism and Indigenous People in Canada: Where the church goes from here?
Our 2022 Thought Leader Symposium, Jan 25th & 26: 1-3pm Featuring: Rev. Ray Aldred
About this event
Thought leader Symposium 2022
Join us as we discern together how the church can participate with the Triune God in responding to racism in Canada. How do we partner with the Spirit in ways that can bring about redemption for the church and reconciliation with those the church has suppressed or abused?
Join us as Rev. Dr. Ray Aldred leads us through teachings and discussion about white supremacy, Aboriginal reconciliation, systematic racism and where we as the church go from here.
Speakers Bio:
Reverend Doctor Ray Aldred is a husband, father, and grandfather. He was ordained with the Christian and Missionary Alliance in Canada. He is status Cree from Swan River Band, Treaty 8. Born in Northern Alberta, he now resides with his wife in Richmond, British Columbia, Canada. Ray is the director of the Indigenous Studies Program at the Vancouver School of Theology whose mission is to partner with the Indigenous Church around theological education.
Formerly Ray served as the Assistant Professor of Theology at Ambrose Seminary in Calgary, Alberta. He is a former chairperson and board member for Indigenous Pathways. He is former Director for the First Nations Alliance Churches of Canada, now a committee member, where he works to encourage Indigenous churches. Ray has had the privilege of addressing several college conferences and meetings. Ray's passion is to help as many as possible hear the gospel in their heart language. Ray and his wife, Elaine are also involved in ministry to help train people to facilitate support groups for people who have suffered abuse.
Ray is married to his wife Elaine, and together they have four children.