Rain City Chronicles x VSB | Pencils & Playgrounds | Tales from Public Scho...
Description
As a part of a special two night series Tales from Public School presented with the Vancouver School Board, join us for a night of storytelling and song. Pencils & Playgrounds: The Elementary Years features true stories told from a diverse array of Vancouverites in the beautiful, historic auditorium at Strathcona Elementary.
Your storytellers are:
Amy Bell
Rebecca Slaven
Andrew Morrison
Jordan Potter
Kaitlin Kazmierowski
Riel Hahn
Cynara Geissler
Graham Clark
Emily Wight
with music by Rolla Olak.
Begin the evening with a one-of-a-kind dinner experience presented by The Cafeteria at Strathcona Elementary.
Winner Winner and Ken Tsui are hosting a school cafeteria takeover. Borrowing from the humble flavors of the cafeteria meal, The Cafeteria tells a story through food. In playfully elevating some of the classics found this side of a plastic tray, the pop-up is bound to incite a few childhood cafeteria memories of your own. Dinner will be served in the cafeteria at Strathcona Elementary before Rain City Chronicles, and available during intermission.
Purchase a package meal with your Rain City Chronicles ticket, or the night of for $20. Individual dishes will also be available on the night of the event. The menu will be posted the week of November 11th, and please send any dietary questions or concerns to raincitychronicles@gmail.com.
Please note: 10% of RCC ticket sales will go to programs that support Strathcona Elementary's most vulnerable learners.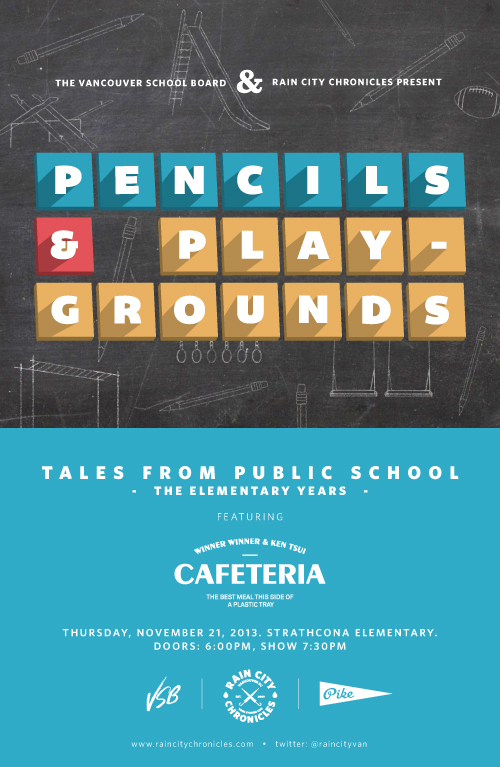 Organizer of Rain City Chronicles x VSB | Pencils & Playgrounds | Tales from Public School - The Elementary Years