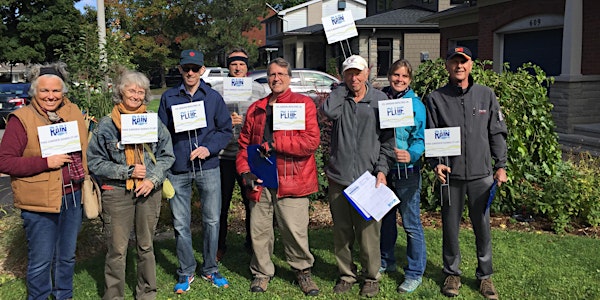 Multiple dates
RAIN Home Visit 2019/ Visite à domicile RAIN 2019
Date and time
Sat, Jul 13, 2019 10:00 AM - Sat, Sep 14, 2019 2:30 PM EDT
Description
Register now for our RAIN Home Visits on September 14 at 10:00 a.m. and 1:00 p.m. in the Westboro area.
---
Join us for a RAIN Home Visit to look at how downspouts, rain barrels, gardens and other solutions help protect your home, community and waterways by managing rainwater where it falls.
This interactive home tour will be led by a certified RAIN Guide from Green Communities Canada.
The guided assessment is a comprehensive 1½ hour visit to help homeowners find the best solutions to address trouble spots at your own home.
The two tours will take place in the Westboro area. The location will be provided after you register. Space is limited! The tours will take place "Rain or Shine".
Saturday, September 14 - 10:00 a.m. - 11:30 a.m.
Saturday, September 14 - 1:00 p.m. - 2:30 p.m.
These tours will be presented in English with opportunity to ask questions in French.
The project is part of the City of Ottawa's Pinecrest Creek/ Westboro Stormwater Management Retrofit plan to reduce the harmful impacts of stormwater.

The Pinecrest Neighbourhood RAIN project is working with homeowners to manage rainwater runoff, protect and beautify their properties, and keep our creeks and rivers healthy. RAIN holds information sessions and workshops, showcases best practices in the community and shares practical tips on ways to Slow It Down, Soak it Up and Keep it Clean.

www.ottawa.ca/rain https://www.facebook.com/RAINOttawaPLUIE/

---
Venez vous joindre à nous lors d'une « Visite à domicile RAIN ». Nous examinerons comment les tuyaux de descente pluviale, les citernes, les jardins et d'autres solutions peuvent vous aider à protéger votre maison, votre communauté et les cours d'eau en gérant l'eau de pluie là où elle tombe.
Cette visite interactive sera animée par un guide certifié RAIN de Green Communities Canada.
Cette évaluation guidée se compose d'une visite approfondie d'une heure et demie au cours de laquelle les propriétaires parviendront à trouver les solutions qui répondront au mieux aux problèmes identifiés dans leurs maisons.
Les deux visites se dérouleront dans la région de Westboro.. Les adresses vous seront transmises après votre inscription. Le nombre de places est limité! Les visites auront lieu « beau temps, mauvais temps ».
Le samedi 14 septembre, de 10 h à 11 h 30
Le samedi 14 septembre, de 13 h à 14 h 30
Ces visites se feront en anglais mais vous pourrez poser vos questions en français.
Le projet Pluie du quartier Pinecrest aide les propriétaires à gérer le ruissellement de l'eau de pluie, à protéger et embellir leur propriété ainsi qu'à garder nos ruisseaux et nos rivières en santé. Lors de séances d'information et d'ateliers, les résidents peuvent découvrir des meilleures pratiques et obtenir des conseils pour ralentir l'eau pluviale et la garder propre.
Ce projet s'inscrit dans le Plan de modernisation de la gestion des eaux pluviales du ruisseau Pinecrest/Westboro de la Ville d'Ottawa, dont le but est de réduire les effets néfastes des eaux pluviales. www.ottawa.ca/fr/rain/ https://www.facebook.com/RAINOttawaPLUIE/
About the organizer
EnviroCentre is a local environmental non-profit which brings environmental change to life by offering people, organizations and communities across Ottawa and the province practical solutions to lighten their environmental impact in lasting ways.