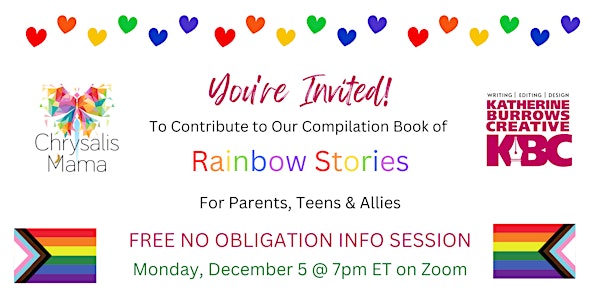 Rainbow Stories Compilation Book Info Session
Stories are powerful! Share your power and support others on a similar journey, especially LGBTQ teens, parents, and allies. Let's inspire!
About this event
Do you remember the first story you read that touched your soul? Perhaps it was a mind-blowing revelation about the world. Or maybe you saw yourself in someone else and realized you were not alone.
Stories are powerful! When we share a sliver of our lives with raw vulnerability, we allow the reader to carefully let down their protective walls and read with vulnerability. That is exactly what many podcast guests on Just Breathe: Parenting Your LGBTQ Teen have done.
When we share a piece of ourselves, we never know just how many lives are positively affected. But each time we put ourselves out there, even if our story only helps one other person, we believe it's worth it.
Heather Hester (Chrysalis Mama) and Katherine Burrows (Katherine Burrows Creative) would like to offer you the opportunity to be part of a collaborative book that we're putting together to honor LGBTQ stories. Think Chicken Soup for the Soul, but filled with rainbow stories for parents, teens, and allies!