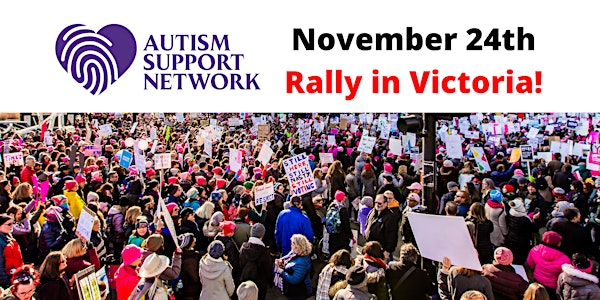 Rally in Victoria with the ASN
Support us in Victoria as we bring our message to the Legislature!
When and where
Location
BC Legislature in Victoria - front steps 501 Belleville Street Victoria, BC V8V 1X4 Canada
Refund Policy
Contact the organizer to request a refund.
About this event
With the stroke of a pen, the Ministry of Children and Family (MCFD) has decimated the existing funding for autistic children.
Without consulting a single autism organization, MCFD will dissolve access to individualized funding for autism treatment and replace it with a "needs-based hub model".
No budget was included in this announcement and no clarity has been provided about how "need" will be determined and by whom.
The Autism Support Network is joining parents from all across British Columbia on November 24th at the Legislature to say NO to this clawback.
We acknowledge and respect the lək̓ʷəŋən (pronounced Le-KWUNG-en) peoples on whose traditional territory the parliament buildings stand and the Songhees, Esquimalt and W̱SÁNEĆ peoples whose historical relationships with the land continue to this day.
While in Victoria, we will bring our message directly to the Legislature and the media. Autism does not belong in a social services portfolio, in a Ministry that lacks the expertise, philosophy and structure required. We want autism funding reinstated now so that families can continue their treatment programs. We want autism treatment moved into the Ministry of Health.
This Rally on November 24th has a focused political strategy and message and we are supported by some of the best and brightest expertise in BC. Please join us this is an important time in the history of autism funding! https://autismrally.eventbrite.ca
We are also working hard where we can contribute to raising others' voices, working with a variety of disability organizations and forcing actual consultation and planning across the board.
See the ASN's full PRESS RELEASE
Thanks to a generous donor, we are able to offer a bus ride to this event from Richmond to Victoria and back. We are asking people to pay for their ferry ride ($40 round trip for an adult, $20 round trip for a child, and there is a Free Option for those that need it and for those that have the BC Ferries disability pass that gets an attendant on for free). **All participants of the bus trip must be double vaccinated and wear a mask.**
Select as many tickets as you need and provide us with contact information so we can send updates.
There will be other groups protesting about the MCFD announcement in Victoria and across the Province. This announcement reaches throughout the BC disability community.
The ASN is sending a contingent to Victoria, where we will be joined by supporters and we will present a brief to the Liberal Caucus and host a press conference while we are there.
RSVP to this event and join the EVENT PAGE discussion on Facebook. Please share this far and wide to raise the voice in BC that says NO to the autism funding clawback.
We encourage EVERYONE to send their own personal story to your MLA, tell them how your treatment programs are being affected!
We encourage you to bring AS MANY PEOPLE AS POSSIBLE onto the lawn of the Legislature on November 24.