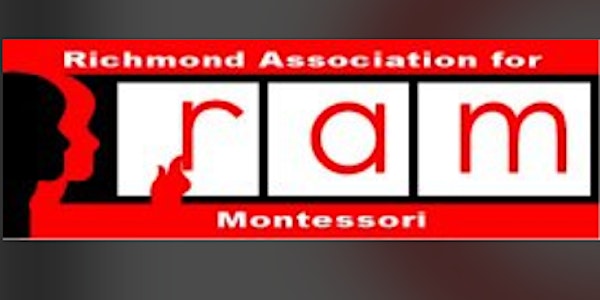 RAM Annual Family Membership and Cash Drive 2020-2021
RAM Annual Family Membership and Cash Drive 2020-2021
About this event
Support RAM and the Montessori program in Richmond. Renew your annual membership!
2020 has been a difficult year, we have reduced our income expectations as well as our budgeted spending. If you're able, please consider donating with your membership this year. If you're unable to donate at this time, there are other ways you can support RAM! Please let us know if you have any additional fundraising ideas!
Click on the "TICKETS" button, you will be prompted to enter a dollar amount:
RAM Annual Family Membership is $75 per family. (no tax receipt can be issued for membership fee)
For additional donation amounts above your Family Membership, a tax receipt will be issued on donation amounts over $10 - Enter the total amount you wish to submit, and we will assume any amount over $75 is for donation (tax receipt amount)
For donations of $200+, your Annual Family Membership will be included. Tax receipt will be issued for the full amount.
Continue to check out and purchase your e-ticket. The necessary info for your Annual Membership will be requested upon check out.
Thank you for your continued support,
RAM (Richmond Association for Montessori)
*********************************************************
About Us
Who is RAM? If your child is in the Montessori Program in Richmond, YOU are!
The Richmond Association for Montessori (RAM) is a made up of families of Montessori Students at Manoah Steves, Garden City and James McKinney Elementary schools. We work together with the school district and the school administration to support the Montessori program in Richmond. We are uniquely structured to help our children's education!
Why become a RAM Member and stay involved?
as a registered organization, we maintain annual paid memberships to stay active
children benefit from having involved parents
attending RAM meetings and volunteering can help you learn more about what happens in your Montessori school and your child's classroom
your children and their classrooms will benefit from membership fees and donations
Where does your membership money go?
additional classroom materials and resources
bursaries for further teacher development
teacher collaboration
conferences about the Montessori method
GET INVOLVED THIS YEAR! STAY ENGAGED WITH US!
Chinese version 中文版本
RAM 年度會員費和捐款
為何要加入我們協會成為會員呢?
我們孩子們每天在課堂裡面使用的專業教具是很貴的,但是當損壞後,需要去修理或是替換。這些專業教具是我們為我們的孩子選擇的蒙特梭利項目必不可少的.
按照法例,我們協會會員一定要有會員費.
如果家長參與,孩子將會做得更好。研究結果表明,如果家長參與,孩子將會得到更好的成績, 並且在學校沒有紀律問題。
各協會會員所捐出款項如何用法?
全部金額放在孩子課堂教學所用.
今年列市教局同意撥入我們協會每間學校各自$4,000,但今後未必每年有此款項. 所以我們的孩子課堂仍然需要各家長繼續捐助支持。
______________________________________________________________________________________________
今年2020-2021 RAM年度家庭會員費及捐款,我們採取Eventbrite線上捐款方式
按下"TICKETS"按鈕,您需填上捐款的金額:
• RAM 年度家庭會員費用為$75一家人(無法給予會員費收據)
• 年度家庭費用額外的金額$75+,增加$10以上即可開立捐款收據- 填上您所希望的捐款金額, 我們將超過$75以上的金額做為捐款費用(包含會員費收據)
• 超過$200+以上捐款金額,包含您年度家庭會員費用,同時開立全額會員證費收據
早鳥捐款抽獎
所有RAM的會費於 2021, 01月05日前繳納, 將會有資格參與我們的$50 Costco禮卷的抽獎.