Ramadan Iftar Dinner for Community Leaders

Friday, 3 July 2015 from 7:30 PM to 10:00 PM (EDT)
Event Details
RAMADAN INTERCULTURAL FRIENDSHIP DINNER

Toronto Police, IDI GTA, and Metropolitan United Church kindly invite you to a complimentary Ramadan Iftar  (breaking-of-the-fast) Dinner to celebrate our intercultural friendship.
Theme
"Justice, fairness and developing
respect & mutual understanding"
Keynote Speaker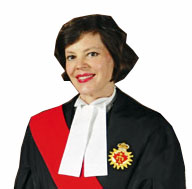 The Honourable Madam Justice
Julie A. Thorburn
Guest of Honour
Peter Sloly
Deputy Chief, Toronto Police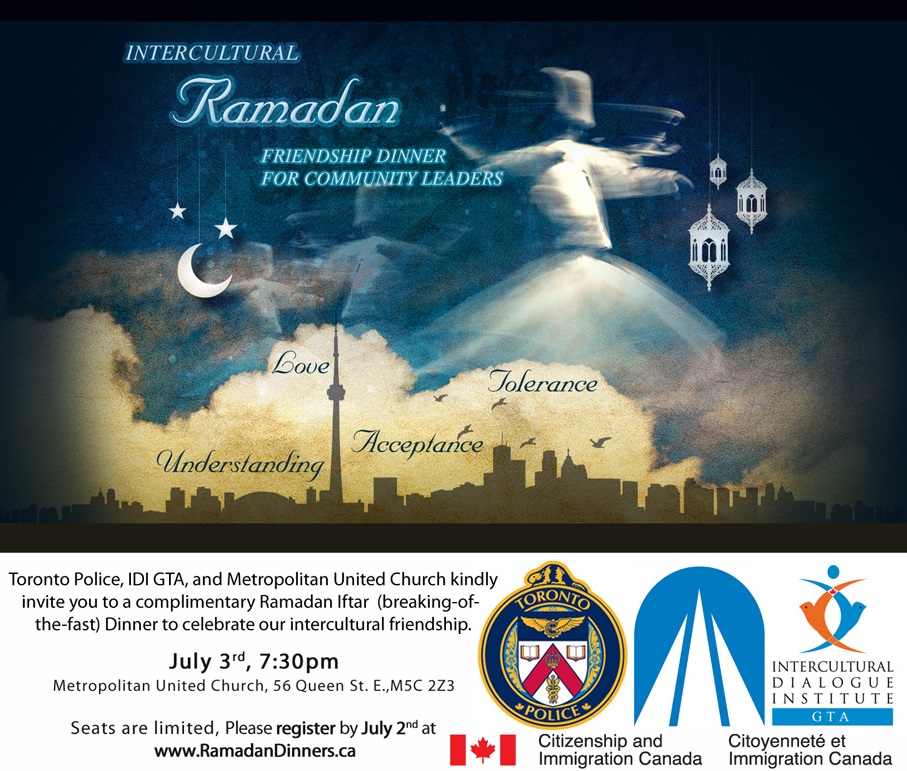 Every year, the Intercultural Dialogue Institute GTA hosts a series of community Iftar (fast-breaking) dinners during the month of Ramadan. Iftar dinners bring together people of various faith and ethno-cultural backgrounds and serve as a means of fostering dialogue and cross-cultural awareness. They address various topics related to common teachings and values in different faith traditions and cultures. A centre piece of the event is the keynote address provided by a distinguished speaker who has relevant expertise with regards to a pressing/relevant matter of discourse.
For more information on IDI GTA Ramadan dinners, please visit: http://toronto.interculturaldialog.com/activities/ramadan-iftar-dinners.

When & Where

Metropolitan United Church
56 Queen St E
Toronto, ON M5C 2Z3
Canada

Friday, 3 July 2015 from 7:30 PM to 10:00 PM (EDT)
Add to my calendar
Organizer
Intercultural Dialogue Institute is a non-profit organization whose purpose is to advance social cohesion through personal interaction by promoting respect and mutual understanding among people of all cultures and faiths through dialogue and partnership.
Intercultural Dialogue Institute aims to promote enduring interfaith and intercultural cooperation, tolerance and dialogue by sharing our differences and similarities in an effort to enhance civil society, to promote the development of human values, and to advance diversity and multiculturalism in the society. The Institute aims to eliminate or reduce false stereotypes, prejudices and unjustified fears through direct human communication. By this mission IDI aims to contribute to improvement of diversity, pluralism and multiculturalism throughout Canada.
IDI was formed in 2010 as a joint effort of several organizations and currently have 11 chapters* and regional offices in major cities of five Canadian provinces.
* GTA branch of IDI was established with the name Canadian Interfaith Dialogue Centre in 2004. Until July 2013 it had been known as Intercultultural Dialogue Institute (IDI) Toronto. In July 2013 it was re-branded as IDI GTA to represent the whole Greater Toronto Area.
Refund Policy: you can get a full refund if you cancel at least 72 hours before the event. If you cancel within 24 to 72 hours before the event, the refund amount is 50% of the ticket price. No refund will be issued for cancellations within 24 hours before the event or anytime after the event.