Description
---
---
Our RAMSIS User Meeting and Update Conference 2019 will be held on June 6th, 2019 at Automation Alley in Troy, Michigan.
This year's RAMSIS Conference 2019 highlights a week filled with RAMSIS advanced user workshops and training. Today we have more attendees signed up than ever before! This is going to be a great conference.
Here's the conference AGENDA: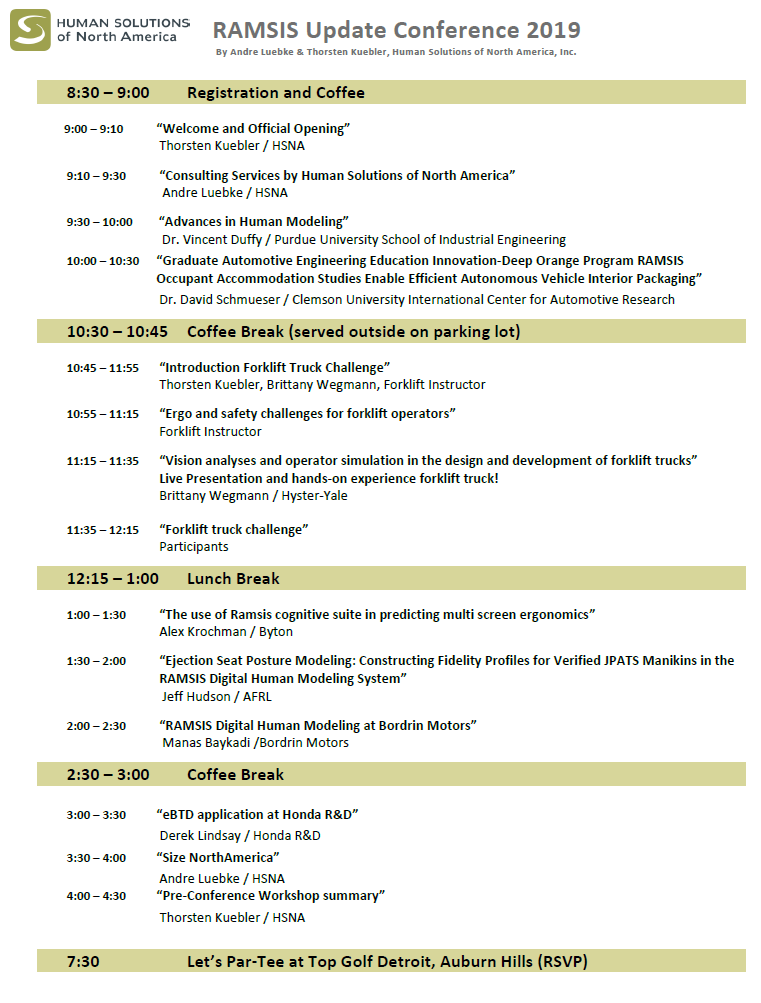 No matter if you're golf-obsessed, Pro or beginner. Join us for the after conference Par-Tee at Top Golf Detroit in Auburn Hills. Please drop us a quick note let us know if you plan to join us for some golfing!
Time: 7:30pm
Location: 500 Great Lakes Crossing Dr, Auburn Hills, MI 48326
Code word: RAMSIS conference
NOT YET REGISTERED? SIGN UP NOW!
LOOKING FOR A HOTEL ROOM?

We have negotiated a special rate of $124 per night incl. breakfast for the Somerset Inn
If you have any questions feel free to contact us.
We hope you can make it!
Best regards,
Andre Luebke & Thorsten Kuebler
---
---
PRE-CONFERENCE WORKSHOPS are sold out:

We offer 2 pre-conference workshops and one training which are all considered to be 2 full day seminars. The seminar is guided by an experienced trainer from Human Solutions.
Location: Automation Alley different rooms
Schedule: Tuesday & Wednesday, June 4 & 5, 2019 from 9am to 5pm
1) RAMSIS motion simulation and posture modeling (REGISTER HERE!)

8 tickets available, registration starts Fri 3/8/2019 12pm!
- deep-dive in automatic posture calculation
- joint operations and inverse kinematics
- creating your posture dataset
- motion simulation
- working with reference points, trajectories and animation simulator
- motion recorder
- truck ingress simulation


2) Efficient workflow with RAMSIS project files (REGISTER HERE!)
8 tickets available, registration starts Fri 3/8/2019 12pm!
- setup a custom test sample
- working with body measure lists
- task definition with conditions
- user defined posture models, user defined range of motion and user defined task definition
- using reference points in task definition
3) Training RAMSIS Seat Belt Analyses (please contact us directly) 8 tickets available!
- overview RAMSIS seat belt design
- introduction to all belt anchorages and their setup
- define belt systems
- transfer belt systems from one design to another
- simulating seat belt on manikins and ATDs
- setup belt-guides
- simulating seat belt with belt-guides
---
---