RAMSIS Update Conference 2018
Description
Dear Colleagues,
Human Solutions would like to invite you to the 2018 RAMSIS Update Conference, which will be held on Thursday, June 7th, at Automation Alley in Troy, Michigan.
This is an event that emphasizes active learning and increased collaboration through interaction, dynamic and interdisciplinary discussion as well as knowledge sharing in a setting of education and business building.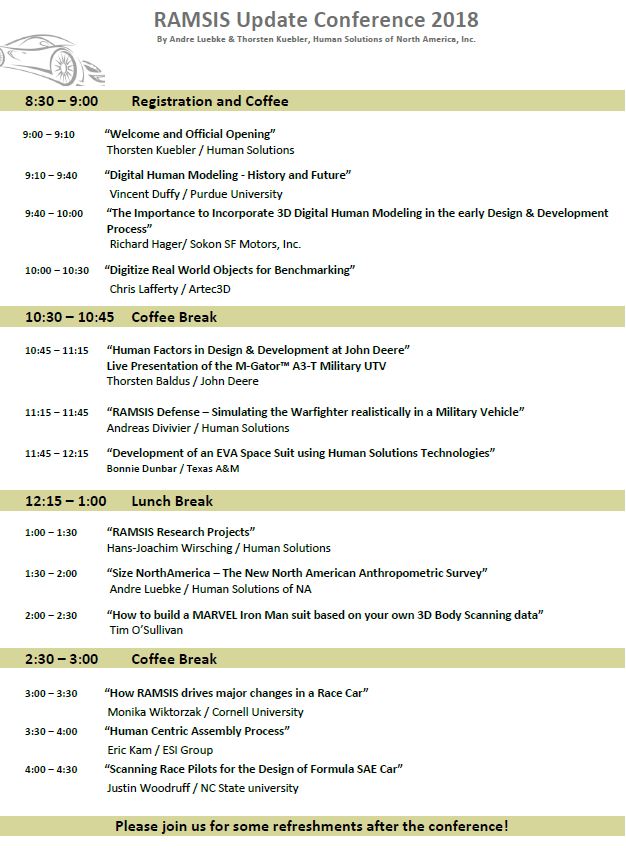 We offer RAMSIS training prior to the conference on June 5th and 6th from 9am to 5pm at Automation Alley.
RAMSIS NextGen Standalone - Automation Alley Troy, MI in Gratiot Room
RAMSIS NextGen in Siemens NX - Automation Alley Troy, MI in Grand River Room
RAMSIS eBTD - Automation Alley Troy, MI in Jefferson Room
If you're interested in attending the training sessions on Tuesday and Wednesday please contact us.

We hope you can make it!
Best regards,
Andre Luebke & Thorsten Kuebler
WHERE TO STAY:
Somerset Inn
2601 West Big Beaver Road
Troy, Michigan, 48084
Special Rates Available: ask for RAMSIS conference 2018