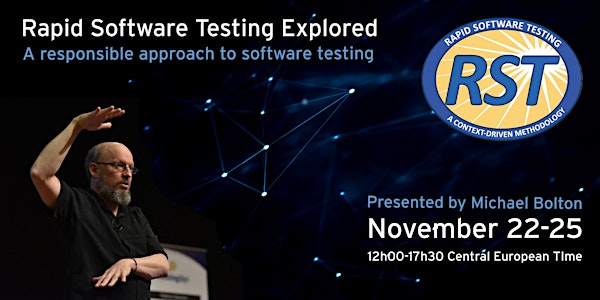 Rapid Software Testing Explored Online (for European/UK/Indian Time Zones)
Rapid Software Testing Explored Online (Europe, UK, and India) A responsible approach to software testing, centered around people who do it.
Refund Policy
Contact the organizer to request a refund.
Eventbrite's fee is nonrefundable.
About this event
Why do we test? We test to develop a comprehensive understanding of the product and the risks around it. We test to find problems that threaten the value of the product, or that threaten the on-time, successful completion of any kind of development work. We test to help the business, managers, and developers decide whether the product they've got is the product they want.
Above all, we test because it is the responsible thing to do. We have a duty of care toward our teams, our organizations, our customers, and society itself. Releasing poorly tested software would be a breach of that duty.
This unique class introduces Rapid Software Testing, a context-driven methodology for testing any product that includes or involves software. Through hands-on activities and interactive discussion, we challenge assumptions and expose common misconceptions about software testing. Then we show you powerful new ways to think, to discuss testing work, to apply heuristic models, and to test responsibly and systematically, so that you focus on business risk and do the right kinds of deep testing that your project needs.
Classes run from 12h00 to 17h30 Central European time each day, in 90-minute interactive sessions with half-hour breaks.
Please note that the pricing here on Eventbrite is expressed in US dollars.
Learn more about Rapid Software Testing here, and more about RST Explored here.
Michael Bolton - Instructor
Michael Bolton is a consulting software tester and testing teacher who helps people to solve testing problems that they didn't realize they could solve. Michael has over 30 years of experience testing, developing, managing, and writing about software. Since 1998, he has led DevelopSense, a Toronto-based testing and development consultancy. Prior to that, he was with Quarterdeck Corporation for eight years, during which he managed the company's flagship products and directed project and testing teams both in-house and around the world. In 2006, he became co-author (with James Bach) of Rapid Software Testing. Since then, he has flown over a million miles to teach RST in 35 countries on six continents.