Description
DARJEELING & NEPAL TEA TASTING AT BEANWISE
Taste the "Champagne of Teas". On July 22nd, BEANWISE will be hosting a free sampling of Rare First Flush 2017 Darjeeling & Nepal tea. Reserve your ticket now as only 75 tickets are available (1 ticket gets you three free 3oz cups of tea).
The event will be held from 12:00pm-3:00pm during which time, samples will only be given to those who registered for this event. After 3:00pm RSVPs are null and void and any remaining tea will be given out on a first-come first-serve basis.

Darjeeling & Neapl tea will be available for purchase at BEANWISE.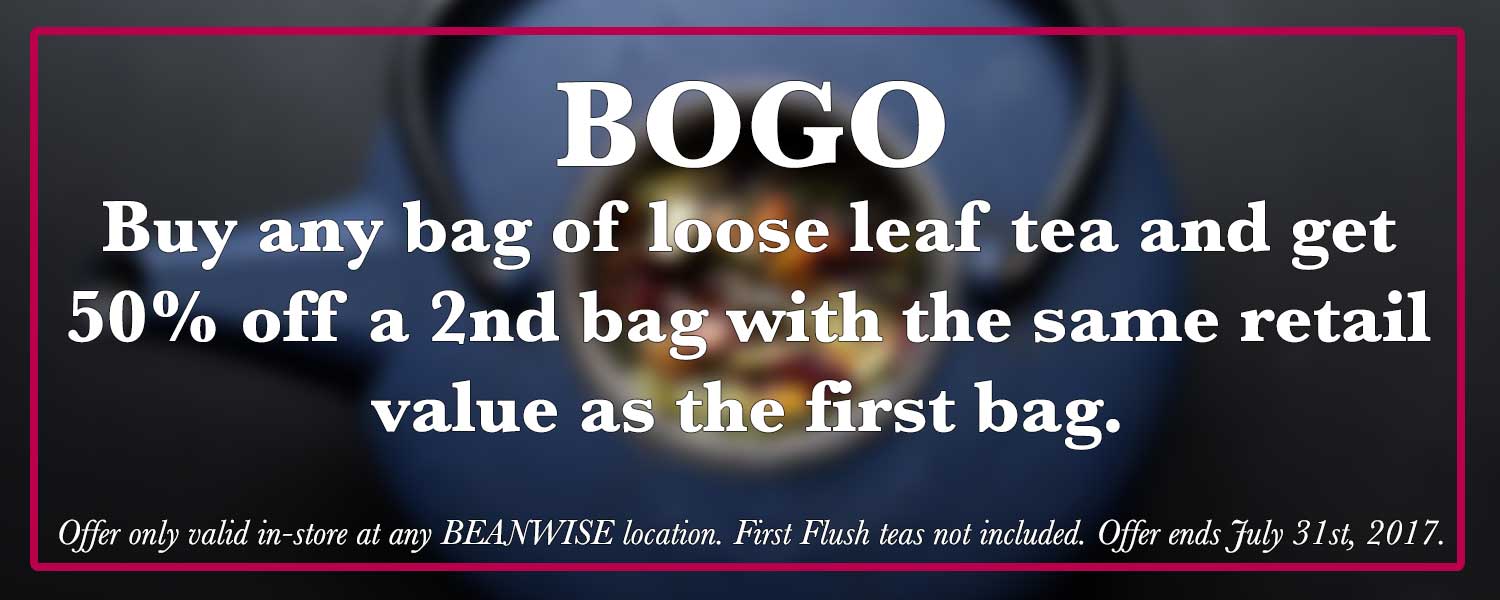 DARJEELING, ONE OF THE WORLD'S MOST FAMOUS TEA GROWING REGIONS.
The Champagne of teas are found here, gardens nestled in the misty mountain scape on the edge of the Himalayan plateau. The unique micro-climate of this region produces some of the most sought after teas in the world. The most exquisite of these are produced here during the spring, when the bushes start flushing with new, delicate and tender shoots; only the finest of which are then hand harvested. These intense, fragrant and soft muscatel flavours are what this seasonal treasure has become famous for.
Not far from Darjeeling is Nepal, with similar growing conditions and home to the Jun Chiyabari Tea Garden, producing an exceptional tea which is just as rare and equally special.


Darjeeling – Thurbo Estate
Thurbo Tea estate was originally planted in the picturesque Mirik valley in 1872.The garden gently flows over the lush hills at altitudes around 1600 meters. D Rai manages this plantation and has once again crafted a true masterpiece of the teamakers art. The liquor produces an exceptionally long finish with subtle fruit and herbaceous undertones.
$16.00 for 25g in-store only.
---
Darjeeling – Castleton Classic
Located in the south Kurseong valley. The estate was established by Dr. Charles Graham in 1885. Plantings range from 1000 to 1400 meters. Our "Classic" is harvested from vigorous original plants, producing a range of complex vegetal flavours with hints of fruit and spice. Vikas Gajmer's skillful hand in the tea craft reveals itself as the liquor ends in a smooth mineral finish on the palate.
$14.00 for 25g in-store only.
---
Nepal – Jun Chiabari
Jun Chiabari (Moonlight Tea Garden) caresses the mountain ridges at 1850 meters and has been a long time favourite. Hile, in the Dhankuta district is blessed with a unique microclimate as the cooling mists descent from the Tibetan plateau. Bachan Gyawali planted here only 17 years ago but the meticulous attention to detail has consistently produced exceptional teas. The pale amber liquor is bright and lively. With hints of stone fruits and a slightly spicy aftertaste, this is an unusual tea of exceptional quality. If you would like to try a tea similar to, but markedly different from first flush Darjeelings, then this organically made tea is one you must try.
$15.00 for 25g in-store only.