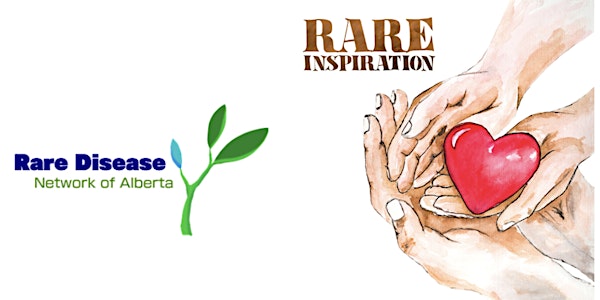 RARE INSPIRATION
The Rare Disease Network of Alberta (rDNA) is a non-profit corporation that was formed in 2018 to help people understand about rare diseases
By Rare Disease Network of Alberta (rDNA)
When and where
Date and time
Sun, Feb 27, 2022 11:00 AM - 2:00 PM PST
About this event
RARE DISEASE DAY IN CALGARY
Sunday, February 27, 2022
12:00 PM - 3:00 PM (MST)
The Rare Disease Network of Alberta invites you to join us for a virtual zoom webinar.
Click here to join the Webinar:
If you would like to join us in-person at Life Innovation Science Hub 3655 36 St NW, Calgary, AB T2L 1Y8 ; Conference Room Number 216 , Please send an email to info@rdna.ca to reserve your spot. Seats are limited. We will confirm your in-person registration upon emailing us.
PROGRAMME
12:00 – 12:15 | Introduction: Purpose of Rare Disease Day Dr. Aneal Khan, M.A.G.I.C Clinic
12:15 – 12:35 | A Rare Journey into the Future Dr. Emil Kakkis, CEO and President at Ultragenyx
12:35 – 12:45 | A Rare Disease Story of a Family who found a second chance at life; from the eyes of a caregiver in COVID19 Kimberly Wilbur;Kopp
12:45 – 13:00 | Unit Art & Science to Inspire Research & Innovation of Treatments Patricia Weltin, CEO and Founder at Beyond the Diagnosis
13:00 – 13:10 | Question Period
13:10 – 13:15 | Break
13:15 – 13:30 | Future of Genomics in Healthcare Dr. Aneal Khan, M.A.G.I.C Clinic
13:30 – 13:45 | Building the Village: Menta Health Considerations in Rare Disease Christina Crowe, Registered Psychotherapist
13:45 – 14:00 | Question Period
14:00 – 14:15 | All in the Family Dr. Seema Kanwal, ND, Canadian Fabry Association
14:15 – 14:45 | Rare Disease Journeys
14:45 – 15:00 | Calming Exercise Liette Wilson, B.A., Certified Fitness Instructor
REGISTRATION IS FREE ON EVENTBRITE