Description
There is perhaps no-one more qualified to speak about the 60's Scoop than Raven Sinclair. As a scholar and survivor of the 60's Scoop / Indigenous Child Welfare system, Sinclair has reflected on the structural underpinnings and impact of the 60's Scoop for much of her life. Sinclair is Nêhiyaw-Cree from George Gordon First Nation in Saskatchewan and a Professor of Social Work and Researcher with the University of Regina, Saskatoon Campus. Sinclair has been court appointed as an Expert Advisor to the Sixties Scoop Healing Foundation, an advisory board member of the Waakebiness-Bryce Institute of Indigenous Health Research, past Chair of the University of Regina Research Ethics Board, and a member of the CIHR College of Reviewers.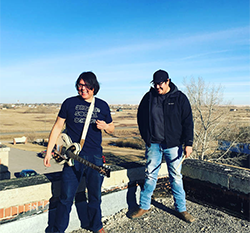 The evening will also feature a performance by Chief N' Council from the Siksika (Blackfoot) Nation. The duo describe their music "as a mix of alternative and rock, heavily influenced by a rural lifestyle on the Rez. With roots from Treaty 7 & 8 this pair of cousins bring a glimpse of their world through a combination of drums, sage, sweetgrass and guitar."

Note, admission is free, however we'd like to make a generous donation to the Indigenous Youth Hub with proceeds from this event. (Please note you do not have to make a donation to attend this event if you can't afford it, please come anyway!) The Hub is a United Way partnership with Pathways Community Services that offers a welcome and inclusive gathering place for Indigenous Youth to connect with peers and build positive, informal relationships with Elders in a safe setting. Complimentary coffee, tea and pastries from Café Rosso will be served.