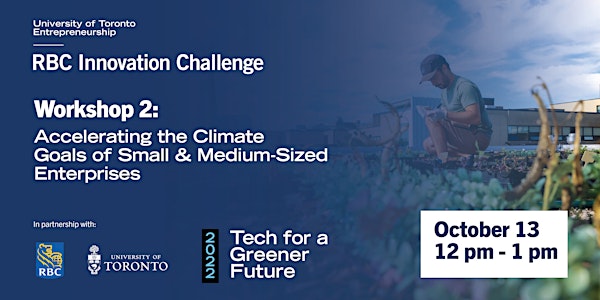 RBC Innovation Challenge: Workshop 2
Accelerating the Climate Goals of Small & Medium-sized Enterprises
About this event
As part of the RBC Innovation Challenge, we will be presenting a series of panels with experts and innovators about trends, opportunities and challenges in specific sectors of the climate tech sphere.
Join us for a virtual panel discussion with subject matter experts, economists, strategists, and technologists about how we can accelerate the climate goals of small & medium-sized enterprises.
The RBC Innovation Challenge is an annual, university-wide competition that invites multi-disciplinary student teams to think big and focus on technology projects with the potential for global impact. The Challenge, supported by University of Toronto Entrepreneurship (UTE), will be open to undergraduate and graduate students from across the university and may identify a different theme each year. The theme for the inaugural RBC Innovation Challenge is Tech for a Greener Future .
Speakers: TBD