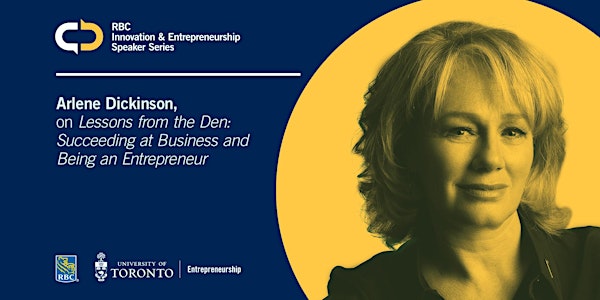 RBC Innovation & Entrepreneurship Series with Arlene Dickinson
When and where
Location
MaRS Discovery District, Auditorium 101 College Street Toronto, Ontario Canada
Description
You're invited to join the U of T entrepreneurship community at our Entrepreneurship@UofT Week Startup Showcase event on March 1st at MaRS, featuring Arlene Dickinson as the keynote speaker.
Lessons from the Den: Succeeding at Business and Being an Entrepreneur
In this talk, one of Canada's most high profile business women distills a lifetime of experience to reveal everything you need to know—and do—to start, to run, and to grow a great business.
On stage, as on the small screen, Dickinson displays a palpable and infectious belief in the entrepreneurial spirit; she reminds us of the major contributions Canadians have made to international business and the entrepreneurial tradition.
Speaker Bio:
Arlene Dickinson, CEO of Venture Communications, District Ventures, and Youinc.com
"The purpose of marketing is to deliver business results," says Arlene Dickinson, renowned CBC "Dragon" and one of Canada's most successful communications entrepreneurs. Whether explaining how to leverage marketing in even the toughest of economic times, sharing backstage stories from "The Den," or giving audiences a look into her personal story of success, Dickinson's experience and expertise always shine through.

Dickinson is one of Canada's most renowned independent marketing communications entrepreneurs. As CEO of Venture Communications, her creative and strategic approach has turned the company into a powerhouse with a blue chip client list. She is also the CEO of District Ventures Capital, a fund investing in Canadian companies in the food and health sectors.
Best known to Canadians as one of the venture capitalists on the award-winning series Dragons' Den, an investor on The Big Decision, and a judge on Recipe to Riches, Dickinson is also the author of two bestselling books -- Persuasion, and her most recent bestselling release, All In.
Dickinson's success and leadership has been recognized with multiple honours and awards including Canada's Most Powerful Women Top 100 Award and the Pinnacle Award for Entrepreneurial Excellence, and she has been honoured with PROFIT and Chatelaine magazine's TOP 100 Women Business Owners Awards.

Dickinson is an Honorary Captain of the Royal Canadian Navy and is the recipient of honorary degrees from Mount Saint Vincent University, Concordia University, Saint Mary's University and NAIT. She is a recipient of the Queen Elizabeth Diamond Jubilee medal. She also sits on numerous public and private boards and is dedicated to giving back to her community and country.
Interested in learning more about entrepreneurship news, events & opportunities at U of T? Sign up for our e-newsletter at www.entrepreneurs.utoronto.ca.