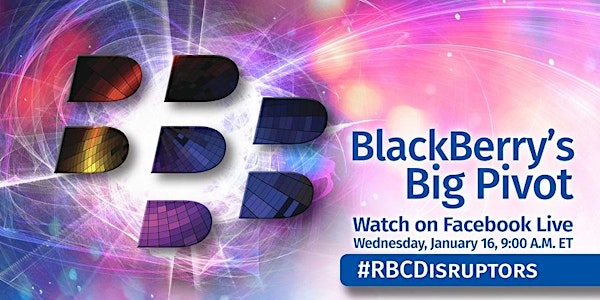 RBCDisruptors: BlackBerry's Big Pivot
When and where
Location
RBC WaterPark Place 88 Queens Quay W Toronto, ON M5J 0B8 Canada
Description
BlackBerry
—

more innovative than ever.

From being the most valuable company on the TSX in 2007, to rapid, unexpected losses and plummeting share prices, BlackBerry has been through it all.


Enter CEO John Chen, who is reinventing the company by pivoting away from the competitive global hardware and handset market, and focusing on the strengths that were always key differentiators for the company — software security and privacy.

BlackBerry now offers enterprise security and privacy services to power the Internet-of-Things, including the automotive industry, healthcare, utility companies and government.

Chen has stabilized the company's financials and shifted its strategy. Now investors are ready for the company's next phase — growth. Join us to find out what's next on BlackBerry's agenda.
Speaker
John Chen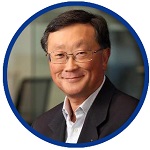 CEO, BlackBerry
As Executive Chairman and CEO of BlackBerry Limited, John Chen is responsible for defining the company's vision and goals, setting its strategy, and ensuring the team's execution matches corporate objectives. Appointed in November 2013, John has led BlackBerry through a successful pivot from hardware icon to software leader. Today the company is poised to leverage its brand strength and heritage in mobile security along with its enterprise cybersecurity and embedded software growth engines to accelerate into the Enterprise of Things, an emerging category with billions of connected devices and massive market potential.
John came to BlackBerry a distinguished leader and proven turnaround executive with more than 30 years of engineering and management experience along with a reputation that extends well-beyond the technology industry. Prior to joining BlackBerry, John served as Chairman and CEO of Sybase Inc. where he re-invented the company and led it through 55 consecutive quarters of profitability, providing outstanding shareholder returns during his 15-year tenure.
A global business leader with a strong interest in policy, John has testified before Congress on U.S.–China trade relations and was appointed by U.S. President George W. Bush to serve on the President's Export Council. In 2006, he was appointed co-chair of the Secure Borders and Open Doors Advisory Committee. Additionally, John chaired the U.S.-China Policy Advisory Roundtable for the Center for Strategic and International Studies (CSIS), served on the Board of the National Committee on U.S. China Relations from 2012-2018, and has been a member of the Committee of 100 since 1997 and its Chairman from 2009-2011.
How to watch
Join us live in person at the Waterpark Place auditorium, 88 Queens Quay W, Toronto.
To watch the event on Facebook Live, click here to like RBC on Facebook and stay tuned for the broadcast on Jan. 16th.
RBC employees can tune in via WebEx.
WebEx call-in details
Please click here to be taken to the WebEx. In Canada, please call 1-800-920-2905. The meeting number is 733 714 930, and dial-in numbers are listed below. If you have any issues, call WebEx support at 888-447-1119 and select option two.
For international, see below:
Australia 18 0070 3671
Italy 800788949
China unified 800 819 0030
Luxembourg 80028159
France 08 00 91 35 54
North America (backup) 647-722-6865
Hong Kong 800 964 224
United Kingdom 080 0528 0707
Barbados 1 800 203 0580
Trinidad and Tobago 1 800 203 3954