What does leadership mean to you?
About this Event
Looking back, 2020 has been a year of upheaval and uncertainty. At the same time, new leadership has been rising in our communities. What do you notice about this leadership? Where are stories we can all learn from?
This Thursday, hear stories from three amazing leaders, meet new friends, and share some of your own leadership moments.
Guests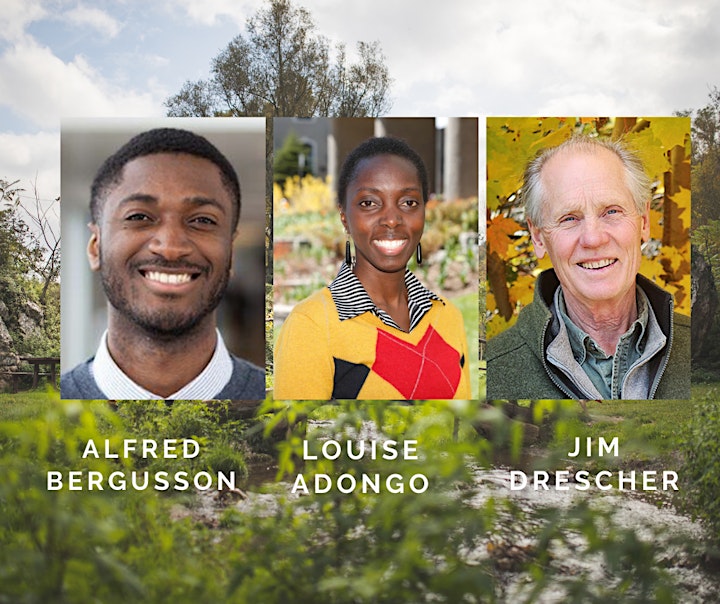 Alfred Bergusson
Alfred is a member of the Prime Minister's Youth Council and a Project Lead at the Centre for Employment Innovation. At the age of seven, he and his family moved from Ghana to Canada to pursue a better quality of life. Alfred is a community organizer and a social entrepreneur living in Halifax, Nova Scotia. He is passionate about youth issues, inclusion, equity and community well-being.
Louise Adongo
Louise is a Public Policy Specialist for the Provincial Government of Nova Scotia. Unafraid to try doing old things differently, Louise has worked on projects in program development for public and not-for-profit sectors in Nova Scotia and parts of Africa. During her first community development experience, she discovered her passion for social justice and equitable resource use. She has since worked in various research, policy and evaluation roles in provincial government for over a decade.
Jim Drescher
Jim is co-owner of Windhorse Farm, where he offers Nothing Missing Leadership retreats in the Acadian forest. These retreats explore leadership as a path of healing—for ourselves, for others and for the land. As forester, farmer, business person and naturalist, Jim has spent seven decades observing how things are built—and how they grow naturally.
Hosts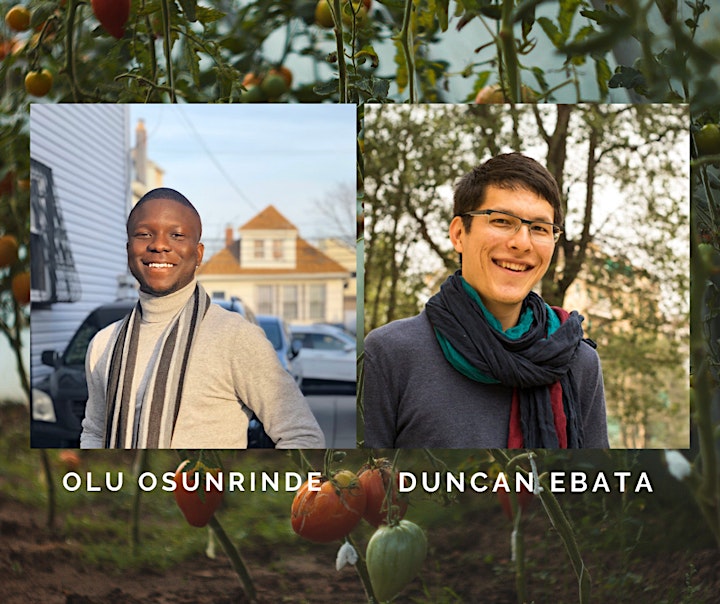 Duncan Ebata
Duncan is passionate about creating thriving community models and spaces that work for humans and our planet. His background is in marketing, food community development, and food-based social enterprise development. Recently, Duncan co-founded Front Street Community Oven in Wolfville, NS, where his current role is managing staff, supporting intercultural programming and community building. He currently works as a coach and facilitator, working on projects like Regenerative Tourism in the Annapolis Valley, the Narrative Project, and supporting clients moving through work and life transitions.
Olu Osunrinde
Olu is a social innovator, ready to discover and initiate effective solutions. He has focused a lot of his energy on community development. Olu's passion for community development began at the age of 16 when he recognized that some of the displaced people arriving in Abuja, Nigeria where he then lived were being judged and ostracized. The injustice of this bothered him and he decided to use soccer as a medium to integrate the less privileged teens he saw with those who were better off.
About Us
The Narrative Project invites stories we want more of—stories that spark our imagination about what is possible and what is already here, often hidden in plain sight. The Project is a collaboration between How We Thrive and WeavEast, with story, music and film contributions from many communities in our region. We are based in Nova Scotia, the ancestral, unceded territory of the Mi'kmaq. Find out more.