Re-engage: "Hired! How To Get the Zippy Gig" Insider Secrets from a Top Rec...
Description
With the current economic downturn and our city's unemployment rate at 8.3%, the job market is competitive. Since 80% of resumes FAIL within 11 seconds, it's important to get this step right. Join us at our next Re-engage workshop to learn the do's and don'ts of applying for a new career opportunity and how to stand out from the pack.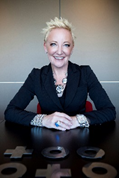 Sheila Musgrove, Founder of TAG Recruitment and Amazon Best-Selling Author of "Hired! How to Get the Zippy Gig", will share what makes an outstanding resume and how to get through an interview without having a rambling out of body experience.
Sheila shares:
6 Surprising Things on Your Resume that Get ZERO Attention in the first 11 seconds

Applying via Email: 3 Critical Mistakes

'Must do's' to Prepare for Your Job Interview

How to Leverage Social Media in Your Job search

…and many more tips!
Agenda:
1:15 – 1:30 p.m. – Registration & Networking
1:30 – 2:30 p.m. – Keynote presentation
2:30 – 3:00 p.m. – Q&A
Please note: This is a free event intended for recently laid-off professionals and skilled trades workers. You must register to attend. Spaces are limited and available on a first-come first-served basis. Please RSVP by August 10, 2016. For more information please contact Jeanette Sutherland at (403) 221-7898. If you are an employer wanting to connect with professionals or skilled trades workers for hire in the immediate future, please email jsutherland@calgaryeconomicdevelopment.com.
Thank you to our Re-engage partner, the Government of Alberta