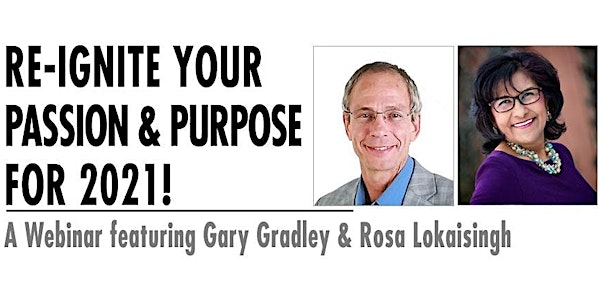 Re-ignite your Passion, Purpose & Performance in 2021
Sales Have Ended
Registrations are closed
This webinar registration is closed since the Webinar has begun. If you are trying to attend after close of registration please contact Gary at garygradley21@gmail.com Thank you.
Re-ignite your Passion, Purpose & Performance in 2021
About this event
This inspiring value-packed Webinar is for you, if you want to:
1) Crystallize meaningful insights into your heart's desires and Re-ignite your Passion and Purpose!
2) Understand the importance and benefits of clarity of purpose, since the clearer your purpose, the greater the life you will live!
3) Learn the proven '7 Step Process to Re-discover and Act upon your Purpose' which connects all the dots of your life / business.
4) Greater clarity, confidence and commitment to your Passion, Purpose and Performance for maximum impact in 2021.
NOW IS THE TIME for Clarity, Purpose and Power!!
Be sure to Join us to Re-ignite your Passion, Purpose & Performance in 2021
Last Webinar participant comments;
• What a great Kick-start to my 2021. Thank you!
• I was inspired by the webinar to overcome my procrastination and begin acting on my (already known) purpose.
• The content was excellent. It reignited my passion for my business.
• Gary and Rosa did an excellent job in creating a pleasant and engaging atmosphere between themselves and everyone.
• The webinar provided the much-needed 'kick in the butt' to get we started acting on my plans.
Sheryl Rogers, Technology Solutions Consultant
Excellent session! Gary + Rosa are well-matched with great complementary content and similar positive energy. Participation flowed naturally, and the time flew! Good value, professional content provoking positive and results-driven discussion, introspection and insights.
Cynthia Barry, Emotional & Physical Health Coach
"I just had a fabulous night connecting with so many individuals that felt like they were wearing their souls on their sleeves and it was such a true connection, so heartfelt hearing each person speak. I felt so much in alignment and fascinated by what people had to say… I feel so grateful and just blessed. Thank you for allowing me to be part of this group"

Gary Gradley, Founder of 'Trusting through the Transition' organization, with a Mission to help 100,000 people choose 'Faith over fear' and fulfill their God - given Purpose to make a needed difference in our world. Gary brings 23 years of experience running his own successful national training & development business and a personal development coaching business. He has worked with over 20,000 leaders, employees and individuals throughout Canada, USA and Australia. He was a trusted advisor for many national corporations throughout Ontario.
Rosa Lokaisingh is the Founder & Business Owner of Connecting YOU! Rosa has gone beyond teaching networking to become a Business Connector and Match-Maker for entrepreneurs looking for collaborative partnerships & global heart-centred business communities. Grow your business with the Power of Connection!
You will come away with more clarity and feel inspired and encouraged to pursue your Passion and Purpose in 2021.
Please register here and we look forward to you joining us for this 1.5 hour Webinar on how to 'Re-ignite your Passion, Purpose & Performance in 2021'. Thank you!