Re-imagining Black Masculinities: Health & Wellness Among Black Men (#2/3)
Description
SPEAKING OUR TRUTHS: A Three-Part Conversation Series about Black Masculinities
---


FEBRUARY | Re-imagining Black Masculinities: Health and Wellness Among Black Men**
---
Date: Saturday, February 22, 2020
Time: 3pm - 6pm
Venue: Ujima House – Young and Potential Fathers. 1901 Weston Rd Unit 18, Toronto, ON M9N 3P5
***PLEASE NOTE***
This Eventbrite page is for the SECOND session (described below) in this series. Registration for the THIRD (and final) session—Being Your Best SELF: What Would It Take?— can be found at this link: https://www.eventbrite.ca/e/93388404231



This event is aimed to be a solely Black Men's space. Black Men are HIGHLY encouraged to attend.
ATTENDEES:
---
Social justice and equity are principles that guide weSpeak Black Daddies Club (BDC) activities. weSpeak and BDC strive to offer anti-oppressive workshops and to create a safe space that is welcoming, empowering, and open to all and free from any form of discrimination and harassement.
**Light Refreshments Provided**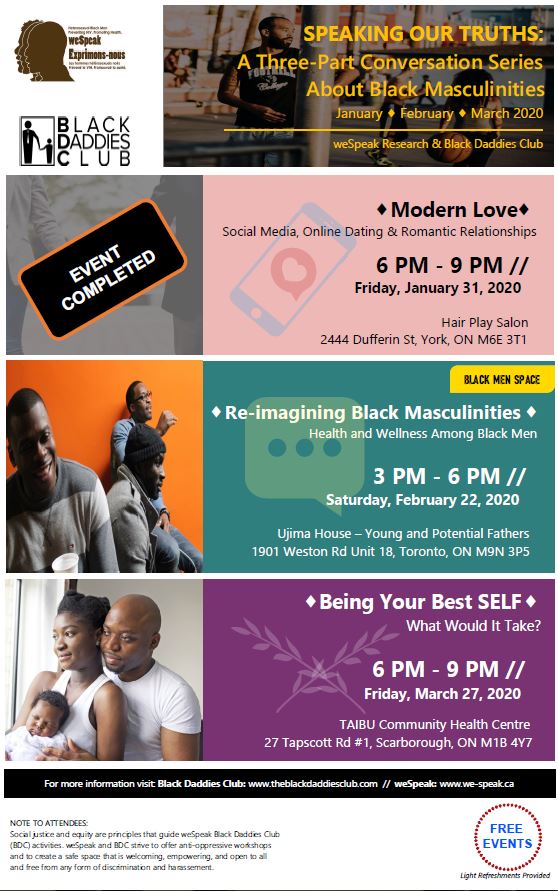 Organizer of Re-imagining Black Masculinities: Health & Wellness Among Black Men (#2/3)
weSpeak is a program of research and related activities with African, Caribbean and Black (ACB) heterosexual men in Ontario to enhance their appreciation of the conditions that help HIV to spread; strengthen their commitment to HIV prevention; and strengthen community networks to end HIV and promote health among Black communities. 
Founded by Brandon Hay, Black Daddies Club aims to support Black children, families and the larger community to:
- Develop a continuous support system for Black men and fathers to share their challenges and/or experiences.
- Work with Black fathers and the community at large to address issues facing Black fathers, children and families, and
- Work with the media to provide alternate images of Black fathers, and assist in the creation of our own media that depicts Black fathers in a positive light.