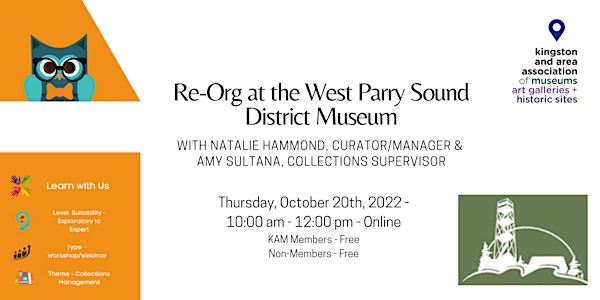 Re-Org at the West Parry Sound District Museum
Challenges within collections - misfiled, mislaid, mislabeled - or just missing!
About this event
In 2015, the West Parry Sound District Museum was lucky enough to be chosen to take part in Re-Org Canada, an initiative designed to assist museums dealing with poorly documented collections and inadequate storage conditions. Join Curator/Manager, Nadine Hammond, and Collections Supervisor, Amy Sultana, as they discuss what the project entailed, how they tore apart the collections storage, and some of the ventures that arose from the initiative including a Found in Collection project and an exhibition entitled "Look What We Found!"
Join us for a conversation about being forced to ask hard questions about collections management, access, use and need.
Please register to attend on the link below. This is a free event for all KAM and non-KAM Members! KAM looks forward to learning best practices and sharing experiences.