Workshop#2: 10 Steps to Getting Started With Digital Messaging
About this event
At Refugee 613, we've spent the last four years testing and refining approaches to connecting newcomers to settlement information via the digital messaging platforms they use.
Now, we've put together a series of four practical sessions designed to take you through the steps of establishing digital messaging as a means for connecting the newcomers in your community with the information and services they need to thrive.
Workshop and Registration Details
Scheduled with convenience in mind, each short session provides both the tools and techniques to succeed in this untapped and dynamic space.
Workshop #1 introduces the key concepts and how they apply to your work. Click here for details and to register.
Workshop #2 is your detailed guide to getting started. You can find details and registration instructions by scrolling down.
Workshop #3 will help you select the right platform. Click here for details and to register.
Workshop#4 will prepare you to manage a community. Click here for details and to register.
We recommend taking all four workshops in order from 1 to 4, however we do recognize how busy schedules can be, and so we have made suggestions about who will most benefit from each workshop. You'll find that information and more on each registration page.
These free, online, sessions are brought to you thanks to funding from Immigration Refugees and Citizenship Canada.
(Pour l'instant, la programmation est uniquement en anglais. Nous explorons des options pour les francophones. Veuillez envoyer un courriel à info@refugee613.ca pour exprimer votre intérêt.)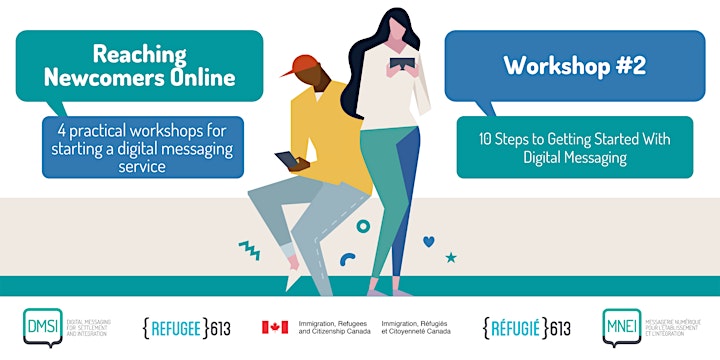 This hour and a half session walks you through the process of creating your digital messaging service step-by-step. We'll cover:
✅ Creating a strategy
✅ Designing with users
✅ Designing for scale
✅ Building for sustainability
✅ Privacy and Security concerns
Pragmatic and practical, this workshop takes us from strategy through to implementation. Perfect for project planners and decision makers but useful for everyone.
Register by following the instructions on this page.