Join Toronto's baddest book club for a virtual discussion with 'The Skin We're In' author/activist Desmond Cole and Nana aba Duncan
About this event
Read 015 | July 07 | 7 pm EST
In partnership with KOTN, Bad Girls Collective invites you to join us for a critical conversation with 'The Skin We're In: A Year of Black Resistance and Power' author and activist Desmond Cole, and Nana aba Duncan, founder of the Media Girlfriends podcast, CBC host and award-winning broadcaster, to discuss systemic racism here in Canada that exists up against the naive myth that we are living in a post-racial nation, as Cole quashes in his debut book.
All humans are welcome to join.
You will receive a link to the virtual discussion room prior to the event.
–
Grab your copy of The Skin We're In from your local independent book shop, to find yours peep this comprehensive map of locations.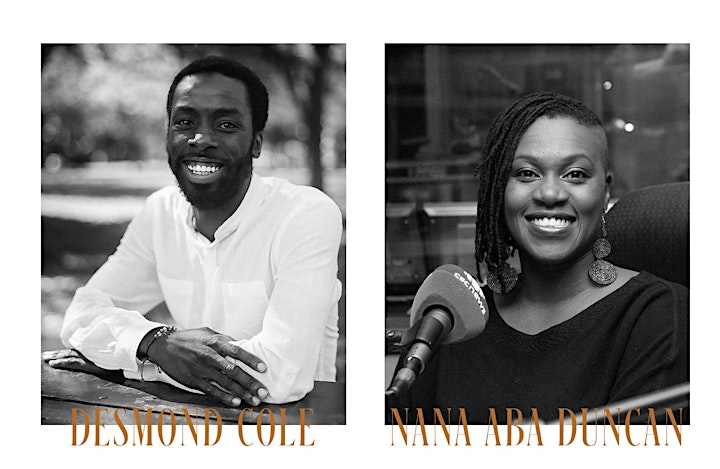 Desmond Cole | is a Canadian journalist, activist, author, and broadcaster who lives in Toronto, Ontario. Cole hosts a weekly radio program on Newstalk 1010. He was previously a columnist for the Toronto Star and has written for The Walrus, NOW Magazine, Torontoist, The Tyee, Ethnic Aisle, Toronto Life, and BuzzFeed. Cole's activism has received national attention, specifically on the issues of police carding, racial discrimination, and dismantling systemic racism.
Nana aba Duncan | is an award-winning broadcaster, and an advocate of underrepresented perspectives in journalism. She currently hosts CBC Radio One's Podcast Playlist as well as Fresh Air, Ontario's top-rated weekend morning show. In 2015, Nana aba launched Media Girlfriends, a podcast that features women in media discussing bad-ass accomplishments, intersectionality, and Beyoncé. Media Girlfriends has grown to include events, student scholarships and a peer network supporting racialized and LGBTQ2+ women/non-binary people working in media. Previously, Nana aba was country director with Journalists For Human Rights in Ghana. She won the Influencer Award at the 2020 International Women of Diversity Awards. Nana aba holds a Master's degree in Journalism from University of Western Ontario and is a William Southam Journalism Fellow this year at University of Toronto's Massey College where she will be studying the experiences of racialized and women leaders in Canadian media. Nana aba has been laughing loudly for a long time.
Black Legal Action Centre (BLAC) | is a non-profit community legal clinic that provides free legal services to low and no income Black Ontarians. The mission of the Black Legal Action Centre (BLAC) is to educate, advocate, and litigate to combat individual and systemic anti-Black racism in Ontario.
Bad Girls Collective | a network of badass women who gather to dismantle what it means to be a "good girl" through the power of reading and celebrating each other's voices.
KOTN | Kotn is a Toronto-based ethically-made clothing brand, with a focus on natural materials. A certified B Corporation, founded in 2015, Kotn focuses on direct trade practices: sourcing their raw cotton straight from the farmers in the Nile River Delta. The brand works directly with responsibly-run cut-and-sew facilities in the region to ensure fair wages and treatment throughout their supply chain, better prices for their customers, and 100% traceability from farm to hanger. Kotn has brick-and-mortar stores in Toronto and Montreal.
By RSVPing to this event, you are agreeing to subscribe to both Bad Girls Collective and KOTN's mailing list.
Organizer of Read 015| A virtual discussion with 'The Skin We're In' author Desmond Cole