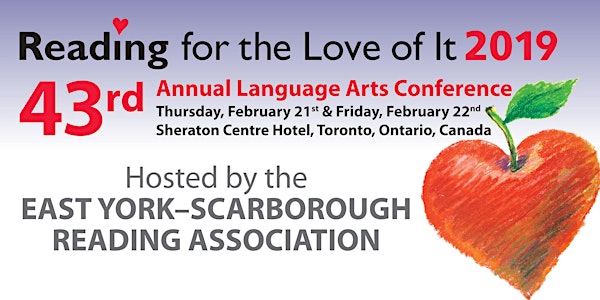 Reading for the Love of It 2019 Conference
When and where
Location
Sheraton Centre Toronto Hotel 123 Queen Street West Toronto, ON M5H 2H9 Canada
Refund Policy
Contact the organizer to request a refund.
Description
The 43rd Annnual Reading for the Love of It conference is taking place on Thursday, February 21, and Friday, February 22, 2019 at the Sheraton Centre Toronto Hotel.
This annual language arts conference is regarded as pre-eminent in bringing together local, national and international authorities in the field of literacy. The goal of the conference is to provide a wide spectrum of speakers to inspire and provoke thinking about literacy issues, and to promote the lifelong love of reading, all at an affordable cost to delegates.
We look forward to welcoming you to the 2019 conference. Check out the 2018 conference highlights then start your planning.
Register early!
~
Frequently Asked Questions
How do I register for the conference?
All registrations must be processed online using our new online Eventbrite registration system. You will be able to pay your registration fee with credit card (Visa, MasterCard, AMEX), OR select an offline cheque payment option. Regardless of which payment method you choose, your registrations must all be processed online. Please also note that once you have selected your payment choice, this cannot be changed.
If you opt to pay your registration fee by cheque, please make your cheque payable to: East York-Scarborough Reading Association, and forward to:
1315 Lawrence Avenue East, Unit 309, Toronto, ON, M3A 3R3
Your registration will only be considered complete on receipt of payment.
***For group savings on processing fees (10 or more people), contact eys@readingfortheloveofit.com before ordering your tickets***
How do I register for the sessions?
Attendance at all sessions/workshops is strictly on a first-come-first-served basis. You cannot pre-register for any of the general open sessions. The program book indicates the maximum capacity of each room. Your registration secures you a space at the conference since our daily capacity is limited.
I did not receive a receipt when I registered online.
If your e-mail is not entered correctly, you will not receive a receipt at the time of your registration. Please contact us at eys@readingfortheloveofit.com and we will check your registration, make any necessary adjustments to your email address, and re-send your receipt. We will not be mailing a hard copy of your receipt, so please ensure to print the copy that is emailed to you.
What is the cost of attending sessions only?
The 2019 sessions are $155 per day; the 2-Day Rate is $280 + applicable processing fees. HST is included. Meal keynote sessions are an additional cost.
Can I attend for a half day?
Registration is for a full day only at a daily rate $155, or for two days at the 2-Day Rate of $280, plus applicable processing fees. HST is included.
Is there a student rate?
The student teacher rate is $65 per day, plus applicable processing fees, and provides access to all workshop sessions and the exhibits. HST is included. Meal keynote sessions are an additional cost. Students are welcome to attend either Thursday or Friday at the $65 rate.
When is the final full detail conference programme available?
The final programme is posted on our website in early December. Printed copies are mailed to registered teachers in early January. Full conference details are also available on our RFTLOI2019 Mobile Conference Guide App.
May I attend the exhibits only?
Only educators registered for the day (Daily Rate: $155 / 2-Day Rate $280) can visit the exhibits.
I registered for Friday, but now I want to add Thursday (or vice versa); OR, I would like to switch my one day registration to the other day; OR I would like to add a meal ticket.
As long as you use the same email address with which you initially registered, you will be able to access your online registration and make any necessary changes. If you have any difficulty, please email eys@readingfortheloveofit.com.
What is your refund policy?
All refund requests must be made in writing by email via the Eventbrite system, or direct to eys@readingfortheloveofit.com, or postmarked on or before Friday, November 30, 2018. Refunds requested by telephone or e-mail cannot be honoured. A $50.00 office fee is retained for each request. No refunds will be given after Friday, November 30, 2018.
Is the hotel accommodation included in the conference fee:
The Sheraton Hotel accommodation is a separate cost and must be booked directly with the hotel. Please refer to the information below to book your accommodation OR refer to the Registration Brochure for additional hotel details. Please tell the hotel that you are with the Reading Conference.
Hotel Accommodation:
Sheraton Centre Toronto Hotel
Downtown Toronto
123 Queen Street
Toronto, Ontario, Canada
M5H 2H9
To make reservations, please call:
416-947-4955 ext. 4440 or the central reservations number at 1-888-627-7175
Tell the hotel you are with the Reading Conference.
OR paste the following URL into your browser: https://www.starwoodmeeting.com/events/start.action?id=1807304522&key=7FA75AF
OR click on the following link: Online Hotel Reservation
The group rate available until Tuesday, January 29, 2019, subject to availability.
Meals
We do offer tickets for purchase to meal keynote presentations, but otherwise you are on your own. Meal function Keynote Speakers are an additional cost. You must register and pay additional fees to attend these sessions.
Some local teachers often 'brown bag' it. However, if that does not work for you, the Sheraton Centre is connected to a network of underground shops and restaurants from where you can purchase a meal. The network is called 'The PATH'. Click Here for The PATH maps and more information.
Where is the closest parking to the Sheraton Hotel?
The Sheraton Centre Toronto Hotel is connected underground on the concourse level with a 'Green P' parking lot which is located just across the northbound street. 2019 rates: $3.00 / half hour with a daily maximum of $20.00 (7am - 6pm); nightly maximum of $6.00 (6pm - 7am); Saturday/Sunday & Holidays daily maximum of $8.00 (7am - 7pm); Click here for more information.
_________________________________________________________________________________________
Reading for the Love of It is hosted by:
East York-Scarborough Reading Association
1315 Lawrence Avenue East, Unit 309, Toronto, ON M3A 3R3
Tel: (416) 444-7473; Fax: (416) 444-9282; Email: eys@readingfortheloveofit.com