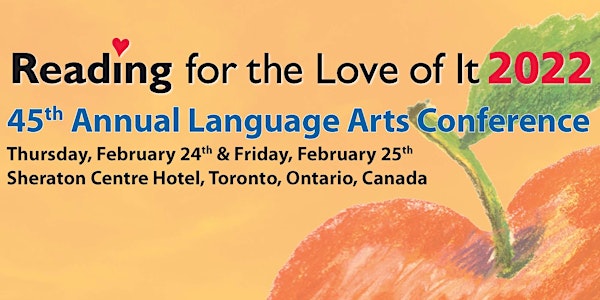 Reading for the Love of It 2022 Conference
RFTLOI provides a forum for literacy experts to inspire educators, and to help them promote a lifelong love of reading with their students
When and where
Location
Sheraton Centre Toronto Hotel 123 Queen Street West Toronto, ON M5H 2H9 Canada
Refund Policy
Contact the organizer to request a refund.
About this event
An URGENT Message from East York-Scarborough Reading Association
It is with a heavy heart that our organization has been forced to cancel the 2022 Reading for the Love of It (RFTLOI) conference that was set to take place at the Sheraton Centre Hotel, February 24th and 25th.
In the last two weeks it has become increasingly clear that we will not be able to do justice to the event experience educators expect from this landmark annual event. COVID, and most recently, the omicron variant, has taken its toll on educators everywhere, and also on our not-for-profit organization. Even with the easing of restrictions as outlined by the Ontario government on January 20th, it is all just too little, too late.
We are devastated by taking this decision, but want you to know that we hope to return in 2023, (three years on from our last in-person conference), stronger than ever.
All registered and paid 2022 participants will be fully refunded – delegates, exhibitors and programme book advertisers.
Also, as a demonstration of our heartfelt thanks to those who had made the commitment to join us this February 2022, we are extending to you a 20% discount to attend the 2023 conference. To those who signed up and paid to participate in the conference, instructions for this discount offer will be issued in September 2022 via email.
We will ask the hotel to cancel all hotel bookings made via our RFTLOI room block. If you booked outside the block, you will need to contact the Sheraton directly to make your own cancellation arrangements. Cancellation must be made 72 hours prior to arrival.
If you have any questions or concerns, please email us at eys@readingfortheloveofit.com. I will work to ensure to get back to everyone as expeditiously as possible.
With kindest regards,
Erica
Erica Townson (she/her)
Conference Organizer & Executive Administrator
EYS Reading Association
'Reading for the Love of It'
1315 Lawrence Avenue East, Unit 309
Toronto, Ontario, M3A 3R3
Tel: (416) 444-7473
Fax: (416) 444-9282
Web: www.readingfortheloveofit.com
~
Reading for the Love of It is hosted by:
East York-Scarborough Reading Association
1315 Lawrence Avenue East, Unit 309, Toronto, ON M3A 3R3
Tel: (416) 444-7473; Fax: (416) 444-9282; Email: eys@readingfortheloveofit.com