Ready For Love Session
Refund Policy
Contact the organizer to request a refund.
Description
READY FOR LOVE SESSION
2 HR One On One Session with Barbara Katz
Don't let another summer go by without that special someone.
…Ordering take-out for one, skipping evening walks by the water, opting-out of weekend getaways – sometimes life is just not as enjoyable when you're alone.
Are you unhappy with your love life?
Do you know what's holding you back from finding that special someone to share your days and nights with?
Are you ready to find out what isn't working and turn it around?
How would you feel if you could start attracting the love you desire right now?
You can.
For the first time ever, I'm opening up my schedule to a LIMITED NUMBER of clients for a personal, one on one 2 hour session.
You'll finally discover what's been holding you back from finding your soulmate - and how you can begin to attract the kind of person that's perfect for you.
It's True. Your life can change quickly if you just know what to do.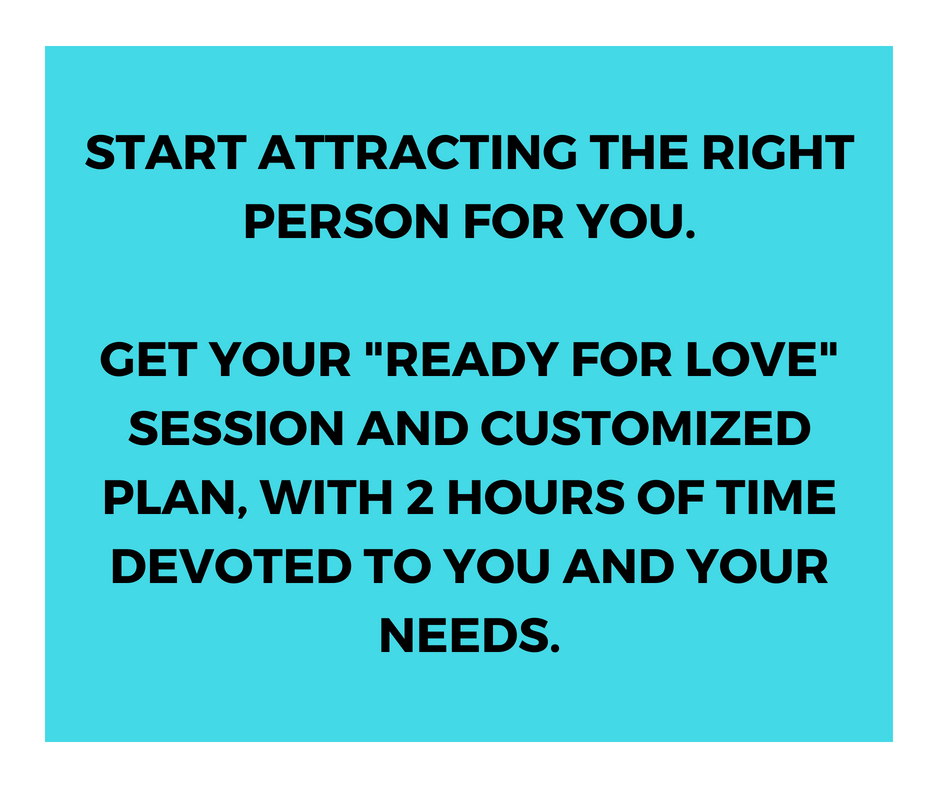 As a special thank you for attending one of my past events you're getting First Choice to take me up on this offer before I open it up to the public.
Be one of the few to get a deep dive "READY FOR LOVE" session, and get it before the fall season is underway!
Normally, this session goes for $349.00. But because you've joined my list I'm offering you my undivided, focused attention and your own customized plan to break through what's been holding you back from finding your life partner for only $249.00.
BONUS: you will also receive a downloadable recording of the session to refer to again and again.
I'm only taking on a few new clients so don't delay. This offer is only good until August 24th..
HOW DO YOU KNOW IF THIS SESSION IS RIGHT FOR YOU?

If one of these statements rings true for you, then this session is a good fit:
- You're successful in other areas of your life, but challenged in your dating life
- You've been out of the dating world for a while and want to regain your dating confidence
- You've been single for a long time and are frustrated you're not finding the type of person you want to date
- You keep dating the wrong type of people and are ready to find your perfect match
Albert Einstein said, "Insanity is doing the same thing over and over again and expecting different results."
It's time to find your life partner and finally start enjoying your life together.
Here's to you and your future!
Barbara Katz
FlirtFactor.ca
P.S. If you have any questions please don't hesitate to email me at barbara@flirtfactor.ca or call 416-994-2555.
I look forward to working together to help you find the love you desire.
* Once your payment has been received I will contact you to arrange a time for our session together. All sessions will be done via the internet using Zoom. Applicable taxes are included in the price.
HERE ARE A FEW WORDS FROM SOME OF MY CLIENTS:

"I started working with Barbara less than 10 weeks ago and I'm already in a wonderful relationship."
– Stacey, Quality Assurance Manager
"Barbara has an incredible ability to move you through your blocks, encourage, support and motivate you towards your goals. She creates a very supportive and safe environment in which to grow."
– Linda, Business Owner
"I'm in a loving, supportive and deeply caring relationship for over two years now. Thanks for your help Barbara!"
– Domenic, Process Improvement Manager
"Barbara's uplifting, positive and genuine personality makes her easy to open up to and terrific to work with. She has not only been an amazing coach but also a caring mentor."
– Laura, Workforce Re-entry Consultant