Ready, Set, Grow! Small Business Summit
Description
Everyone hopes to be successful in both life and business! Ready, Set, Grow - Small Business Summit provides you with an opportunity to hear from experts, learn from entrepreneurs, as well as pick up tips and advice that will help you move forward in reaching those goals!
The event includes morning speaker, Graeme Bachiu, who is the creative energy behind Windecker Road Films. His work in broadcast news and documentary film has allowed him to work with some of Canada's finest journalists and storytellers. Graeme has also been screened at film festivals around the world. Learn what life is like behind the camera, and why video is an essential element of telling your story!
Keynote Speaker, Dani Gagnon, is an innovative digital algorithm and marketing expert. Her creative strategies have contributed to the Property Brothers and other TV shows on Netflix, Disney, HULU, Crave, CTV and CBC. She has also worked alongside national campaigns for the CCPA and the Kidney Foundation. Dani knows the importance of digital marketing for any business, she'll share how to maximize your online presence!
Enjoy a panel of small business owners who will discuss the challenges and glories of being a young entrepreneur or choose to be one of only 15 participants to work directly with Graeme Bachiu in a 60-minute hands-on video workshop.
Lunch catered by Brock University and a thank you gift provided to every attendee by Erie Mutual Insurance, PLUS a fabulous draw prize for a set of beats by dr. dre studio3 wireless headphones!! (Draw will take place during the event. Must be present at the time of the draw to win).
Students of Brock University, as well as young entrepreneurs, business owners and all others, are welcome to attend as this event is open to the public.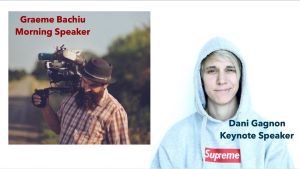 Morning Speaker - GRAEME BACHIU - Freelance Camera, Editor & Producer (Windecker Road Films - https://windeckerroadfilms.com/)
An award-winning documentary filmmaker, Graeme Bachiu is drawn to personal stories and interesting characters. He brings his focus on storytelling to his corporate video work for clients as well as personal short documentary films including a documentary series currently in production that tells an untold story of southern Ontario's black history.
Graeme will also be hosting a short Video "How To" Session following the morning break, only 15 spots are available - purchase General Admission with Video Training before they're gone!

Afternoon Speaker - DANI GAGNON - Digital Algorithm & Marketing Expert, Seneca College Professor, Keynote Speaker at National Speakers Bureau.
Dani is a keynote speaker with the National Speaker's Bureau and has been working on digital marketing strategies and campaigns with brands using innovative ideas and methods for the last 10 years. She has spoken to groups like The Government of Canada and helped to create strategies for the Property Brothers and TV shows on Netflix, Disney, HULU, CTV, Crave and CBC. She has also made her mark in the not for profit world creating successful national campaigns for the CCPA and the Kidney Foundation. A disruptor in the Canadian marketing world, and an edgy influencer on social, Dani brings the fire behind all the digital campaigns she works on. Check out more on Dani here ...https://www.thegnfgroup.com/ or here https://www.nsb.com/speakers/dani-gagnon/
PANEL PARTICIPANTS INCLUDE:
George Nikolaidis (Brock Alumni) - https://www.eriemutual.com/
Shane VanEgmund - http://sticker-it.ca/
Myles Calvert - https://www.tenpine.ca/
DISCLAIMERS:
Please note that this event will be photographed and video recorded, your attendance at the event provides full permission and consent for use of photo and video content in which you may be included.
Speakers and event subject to change.