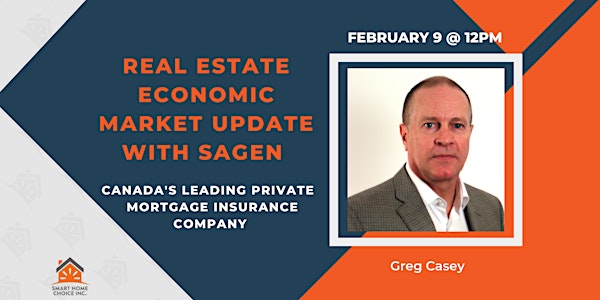 Real Estate Economic Market Update With Sagen
Real Estate Economic Market Update
About this event
The Bank of Canada's (BOC) decision to hike interest rates has had a wide-ranging impact on Canadians. In particular, families are feeling the pinch with variable-rate mortgages becoming far more expensive. Further, investors are in the midst of renovations or are encountering the challenge of finding financing for them in an environment of higher rates of interest. To better understand the current state of the housing market and to get a better perspective of where we are headed, we have invited Greg Casey from Sagen to provide his knowledgeable insights on the topic.
Greg is highly qualified to offer advice on this issue. His extensive experience in the financial landscape has helped him provide a unique perspective on the topic at hand. He is an expert on the current state of the housing market, understanding the underlying drivers and factors that are playing a role in the hikes in rates and their eventual outcomes. He will provide an enlightenment as to what we have seen in the past and what we may be able to expect in the future. He has a deep understanding of the causes and effects of the hikes in rate, as well as their effects on housing prices and investments.
Greg's insights will be extremely helpful to those families and investors who have been hit by the BOC's decision to hike rates. He will help them better understand the current situation and make well-informed decisions regarding the housing market. His advice is invaluable to those wanting to make the most of their investments and to those seeking to purchase or renovate their homes.
His knowledge and experience will provide much-needed clarity and direction. We are extremely fortunate to have him provide his insights on the current and potential future state of the housing market. His expertise should help those affected by the Bank of Canada's decision to hike rates to make the best decision for their circumstances.