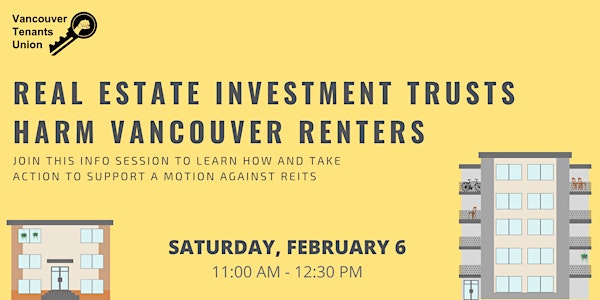 Real Estate Investment Trusts (REIT) Info Session + Motion Support
Join the Vancouver Tenants Union in the fight for housing affordability with this helpful information session and call to action!
About this event
Affording a home has never been harder for tenants in Vancouver. Come learn how Real Estate Investment Trusts (REITs) are worsening the existing housing crisis and how you can join tenants organizing to defeat REITs and win housing security! The Vancouver Tenants' Union is hosting an info session for the community to help us learn about REITs' predatory practices and to organize to support a motion coming to city hall to limit REITs' impacts on our housing.
City of Vancouver Councilor Jean Swanson, Patrick Condon, UBC Prof. and founding chair of Master of Urban Design Program, and Bhumika Jhamb, Research and Communications Coordinator at ACORN Canada will provide insight on how REITs contribute to the increasing unaffordability of housing in our city.
The event will feature some Q&A with our speakers and wrap up by giving you an opportunity to learn how to sign up to speak at city hall. The more speakers who sign up, the more we can show our collective strength and push for housing as a human right!