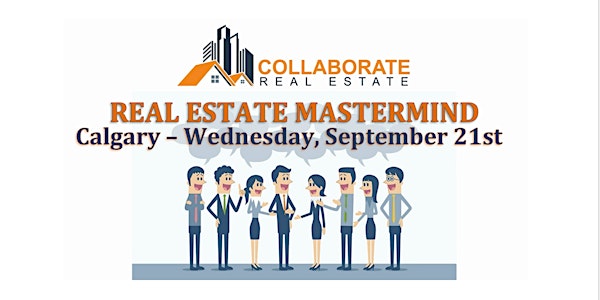 Real Estate Mastermind - COLLABORATE Real Estate
Real Estate Investor Mastermind Event Join us Wednesday, September 21st for a unique real estate event in Calgary.
When and where
Location
Hotel Blackfoot 5940 Blackfoot Trail Southeast Calgary, AB T2H 2B5 Canada
About this event
Real Estate Investor Mastermind Event
Join us Wednesday, September 21st for a unique real estate event in Calgary. Our Real Estate Mastermind Events are designed to create a constructive environment for real estate investment discussions, combined with valuable presentations and excellent networking opportunities.
Our 3 Topics for September will be:
Mortgage and Lending Options Update
Everyone in the real estate world is well aware that mortgage rates have been climbing steadily in 2022. The rise in interest rates is directly impacting buyers - which of course impacts sellers - which is making an immediate impact on the market overall. With the market softening slightly, many investors are thinking seriously about starting to get into buying mode once again.
So what are your options if you are interested in purchasing in this market?
With a diverse variety of lenders to choose from - our mortgage specialist Jeff McGinn (from Axiom Mortgage Solutions) may have access to better options than you are aware of for multiple situations.
Join us for a true inside look at current lending options that may be helpful for your unique situation.
Important Considerations for Evaluating Rental Properties
(Panel Discussion)
There are several important factors to consider when purchasing any rental property. While certain things may be quite obvious, there are multiple other factors that can affect the long term pros and cons of moving forward on a deal.
While it is always important to evaluate opportunities carefully and strategically - it can be especially critical in the early stages for new or inexperienced investors.
Join us for a valuable panel discussion to cover issues such as:
What are the current market conditions (and trends) and how should you approach an offer in the current real estate environment?
What do the numbers look like and how can your financing options improve cashflow and managing costs?
How can you spot great opportunities for buying undervalued properties and adding value efficiently?
What are the tax implications of your investment strategy - and are there better options available?
How can you tell the difference between a great "fixer upper" opportunity and a complete train wreck where you should walk (or run!) away?
What is the current rental market telling you about various market segments? What are the risks and rewards for various types of properties?
And more!
Growing & Diversifying Calgary's Economy
Our feature speaker for September will be Leslie Shier. Leslie is the Director of Client Excellence Responsible for the areas of Commercial Real Estate and Talent Attraction and Retention for the City of Calgary.
Leslie has the inside track on multiple large components impacting and fueling the Calgary economy, and will be sharing several valuable insights into what is currently happening (and shifting) within the Calgary business sector and the Calgary economy overall.
This presentation will include:
What are the current factors and trends surrounding employment and incomes in Calgary. What does the overall job market look like and what is expected in the near future in the current economic environment?
What are current migration trends into Calgary and what are the biggest driving factors at this point in time?
How has the shift to many companies working remotely affected the commercial and downtown office space situation in Calgary? What are the plans for the vacant space and will things ever return to "normal"?
Updates on the Calgary Economic Development campaign and efforts to attract new industries and tech companies to Calgary.
Information about the "Live Tech – Love Life" Campaign and the impact on job creation
And more!
Register for this free event and join us on September 21st! Collaborate Real Estate events are always well attended and focused on creating a community of like-minded people with similar goals.
COLLABORATE Real Estate is a real estate investor community in Calgary. If you are interested in investing in residential real estate, this group offers a completely unique approach to education and networking.
Our events focus on roundtable discussions combined with short presentations to offer an interactive environment for networking and exchanging ideas with local real estate investors. Our events are designed for both experienced investors and those who are just getting started.
Company Information Available at: www.CollaborateRealEstate.ca
What are Recent Event Attendees Saying About Our Events?
"It was totally refreshing to be at an event that was truly focused on education - and not focused on selling anything.  I met several excellent people at my table and learned some new ideas from the presenters that will definitely be helpful in the future.  I was very pleased with the professionalism of the entire event and I am definitely planning on attending again.  It was great!  Thank you for setting this up!"
"I would just like to thank you and your team for putting on a great event last night. The speakers and topics were very interesting and well presented. I really think you have collected a great group of people to come together, and I look forward to the next event."
"The event was excellent!  I was hesitant to go initially (because I was expecting a big sales pitch like every other real estate event I attend) and to my complete surprise - it never happened!  I was really pleased with the quality of the presentations and I learned some great ideas from both speakers.  I also met some very experienced investors who were great to learn from - and that in itself was eye opening and very valuable.  I will definitely be attending again and I'm really looking forward to it!"
Join us for a great real estate networking opportunity.
Meet like minded people with similar goals.
Register for our Free Event on Wednesday, September 21st.
Hotel Blackfoot - 5940 Blackfoot Trail SE, Calgary
Check In: 6:30pm – 7:00pm
Presentations begin at 7:00pm and run until approximately 9:30pm.