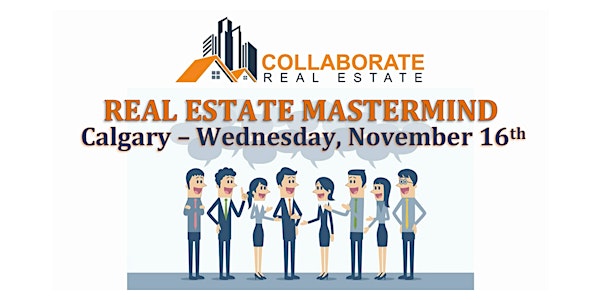 Real Estate Mastermind - COLLABORATE Real Estate
Real Estate Investor Mastermind Event Join us Wednesday, November 16th for a unique real estate event in Calgary.
When and where
Location
Hotel Blackfoot 5940 Blackfoot Trail Southeast Calgary, AB T2H 2B5 Canada
About this event
Real Estate Investor Mastermind Event
Join us Wednesday, November 16th for a unique real estate event in Calgary. Our Real Estate Mastermind Events are designed to create a constructive environment for real estate investment discussions, combined with valuable presentations and excellent networking opportunities.
Our 3 Topics for November will be:
5 Things to Make it Worth Walking Away
Every property is unique. Whether purchasing your own residential home or a strategic investment property, it is always important to perform proper due diligence.
Often times home buyers will "fall in love with the property" and have a natural tendency to overlook a few things because they like the property so much. While many things are not serious and can always be addressed, there are a handful of more critical issues that can come up which require much more serious and detailed consideration.
Our first presentation will break down 5 key issues to carefully watch for when carefully evaluating any property.
Top 10 Real Estate Lessons from 2022
(Panel Discussion)
The past year in Calgary real estate has been exciting, crazy, frustrating (for many!) and so much more!
With the market absolutely exploding in the first half of the year – and then turning almost instantly over the summer – everyone in real estate has faced a variety of unique issues and challenges in 2022.
Join us for an informative panel discussion with our team to discuss some of the most valuable lessons they have learned through this very unique and very interesting year in real estate from multiple different angles and perspectives!
Understanding Tenant Rights and Landlord Rights
For many real estate investors and landlords, it can sometimes feel a bit confusing walking the line between healthy communication with tenants and "crossing the line" into unacceptable territory.
The Residential Tenancies Act can be confusing and unclear how to handle certain situations. There can be plenty of myths and incorrect information provided to landlords. While it may be shared with good intentions, it can actually put landlords in a negative situation.
Taking that conversation much further, aside from the optics and "Relationship" between both parties – what are the actual legal rights and obligations for both sides? (And what are the consequences for not following the rules?)
This presentation will include:
What you can and cannot ask or say when interviewing tenants (and why)
Different scenarios and strategies for when the rent is late or not being paid
Ending leases and evicting tenants (when required)
Deposits, pet fees, dealing with damages to properties
Purpose of walk throughs and rules around final statement of account
Register for this free event and join us on November 16th! Collaborate Real Estate events are always well attended and focused on creating a community of like-minded people with similar goals.
COLLABORATE Real Estate is a real estate investor community in Calgary. If you are interested in investing in residential real estate, this group offers a completely unique approach to education and networking.
Our events focus on roundtable discussions combined with short presentations to offer an interactive environment for networking and exchanging ideas with local real estate investors. Our events are designed for both experienced investors and those who are just getting started.
Company Information Available at: www.CollaborateRealEstate.ca
What are Recent Event Attendees Saying About Our Events?
"It was totally refreshing to be at an event that was truly focused on education - and not focused on selling anything.  I met several excellent people at my table and learned some new ideas from the presenters that will definitely be helpful in the future.  I was very pleased with the professionalism of the entire event and I am definitely planning on attending again.  It was great!  Thank you for setting this up!"
"I would just like to thank you and your team for putting on a great event last night. The speakers and topics were very interesting and well presented. I really think you have collected a great group of people to come together, and I look forward to the next event."
"The event was excellent!  I was hesitant to go initially (because I was expecting a big sales pitch like every other real estate event I attend) and to my complete surprise - it never happened!  I was really pleased with the quality of the presentations and I learned some great ideas from both speakers.  I also met some very experienced investors who were great to learn from - and that in itself was eye opening and very valuable.  I will definitely be attending again and I'm really looking forward to it!"
Join us for a great real estate networking opportunity.
Meet like minded people with similar goals.
Register for our Free Event on Wednesday, November 16th.
Hotel Blackfoot - 5940 Blackfoot Trail SE, Calgary
Check In: 6:30pm – 7:00pm
Presentations begin at 7:00pm and run until approximately 9:30pm.