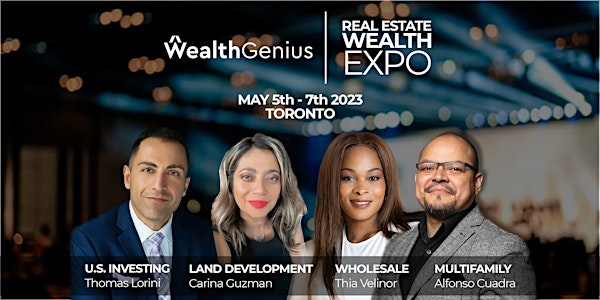 Real Estate Wealth EXPO - Toronto, ON [050523]
A three-day Real Estate Investing Educational EXPO for those who are serious about building wealth through real estate
Date and time
Fri, May 5, 2023 9:00 AM - Sun, May 7, 2023 5:00 PM EDT
Location
Toronto Don Valley Hotel & Suites 175 Wynford Drive Toronto, ON M3C 1J3 Canada
Refund Policy
Contact the organizer to request a refund.
Eventbrite's fee is nonrefundable.
About this event
2 days 8 hours

Mobile eTicket
Real Estate Investing Educational EXPO
If you're looking to expand your knowledge and understanding of real estate investing, attending the WealthGenius Real Estate Wealth EXPO is a must. This event is designed to provide you with a comprehensive education in multifamily investing, US investing, land development, and wholesaling.
At the expo, you'll have the opportunity to learn from some of the most experienced and successful real estate professionals in the industry. They'll share their insights, strategies, and best practices for investing in these diverse areas of the real estate market. Whether you're just starting out or you're an experienced investor looking to broaden your horizons, you'll find the information and guidance you need to succeed.
Additionally, the expo will provide you with the opportunity to network with other investors and real estate professionals. You'll have the chance to connect with others who share your interests and can offer support and advice as you grow your investment portfolio.
The learning opportunities at a real estate expo are truly unmatched. You'll have access to a wealth of information and resources that will help you stay ahead of the curve in this dynamic and ever-changing industry. You'll also have the opportunity to ask questions and get answers directly from the experts.
Attending the WealthGenius Real Estate Wealth EXPO is an investment in your future as a real estate investor. With our comprehensive education, opportunities to network and connect with industry professionals, and access to cutting-edge information and resources, a real estate expo is the perfect place to start or grow your investment journey. Don't miss this chance to learn, grow, and succeed in the exciting world of real estate investing.
Meet Your Presenters :
Alfonso Cuadra
Alfonso Cuadra, one of Canada's most successful real estate investors - aka "The Godfather of Real Estate".
"I wasn't born with millions of dollars. At 15 years old, I was homeless after escaping a tyrannical government and living hand to mouth on the streets of Ottawa.
I grew my wealth against all odds through hard work, perseverance, and a wealth-based mindset. Now, I'm a serial entrepreneur, real estate investor, speaker, and author with a passion for education and helping people to reach their full potential.
I was a fighter and I never gave up. In my 25-plus year career, I have learned how to truly thrive. WealthGenius is the culmination of my life's work that I want to share with you."
Carina is a local land developer in Ottawa.
She is a happy mom of 2 amazing boys.
Her journey in real estate began in 2009 and eventually her interests led her to the field of Urban Planning where she immersed herself in the world of land development.
She now runs a full land development company with a power team of architects, engineers, planners, and project managers.
Her growth has led her to take on large scale projects that involve Zoning Amendments, Transit Oriented Developments and Plan of Subdivisions. Her passion lies in creating beautiful communities to live in while maintaining a harmonic balance between environmental and social responsibility.
Today Carina continues to invest in real estate actively running her own projects. She also loves to invest passively as a private lender, all while enjoying her time speaking, mentoring, and coaching.
Thomas Is an accomplished real estate investor, dynamic speaker, and innovative leader. He has a proven track record of successfully investing in Canada and the US over the past 15 years.
Thomas and his team are focused on acquiring value-add multifamily in the right markets. From studying Mechanical Engineering, to running a successful manufacturing company, to now leading the WealthGenius expansion into the US, he is dedicated in educating and inspiring his audiences towards financial freedom and transforming their lives.
Thia Velinor who is a proud mother got her start in real estate in 2020. She started Velinor Properties, a wholesaling business just months after suffering a devastating loss when her mother passed away in February of 2020. Thia could have wallowed in the deep dark pain she felt, but instead decided to honour her mother by choosing success, by choosing to take her time back and live life the way she has dreamt it.
Thia has built a wholesaling team of 8 and grew her portfolio to 67 doors utilizing OPM. She believes that everyone is capable of achieving greatness, we just have to believe it ourselves. I want to help others see the greatness within themselves and help extract it so they too can live a life they are genuinely happy about.
This EXPO specializes in real estate investing. But throughout the 3 days that we're together, the term real estate investor takes on a different meaning.
While there's a strong emphasis on opportunities, strategies, and building wealth, we do it in a context of lifting one another up. That's why for every ticket purchased, you can bring one guest for FREE.
Come expecting to be challenged, stretched, encouraged – and ready to achieve multifamily real estate success.
EXPO Schedule
Doors open at 8:15 am daily - Come early to network!
Friday May 5, 2023 - 9am to 5pm
Saturday May 6, 2023 - 9am to 5pm
Sunday May 7, 2023 - 9am to 5pm
Invite a friend!
With each ticket, you can bring one guest for free!
>> Understand the power of Multifamily Real Estate Investing
Multifamily Real Estate investing is a low risk option for investors that provides tax benefits, greater cash flow, and more. We begin by exploring the full power of multifamily real estate and the opportunities it presents for you.
>> Why now is the best time to invest in multifamily
An influx of talent, trends towards renting over buying, and a steady market even when faced with economic downturns means that now is an excellent time to invest in multifamily properties. At this stage of the bootcamp, we'll discuss each of these reasons and more in detail.
>> How to examine the present market and identify profitable multifamily opportunities
Being able to read the market is a vital skill that all real estate investors must perfect. Here, we'll discuss tips and strategies to accurately identify opportunities that are low risk and profitable.
>> How to use other people's money (OPM) in order to create and broker real estate deals
Higher market entry costs and ongoing expense is a characteristic of multifamily properties. Most investors rely on multiple forms of financing using other people's money, such as seller financing, subject to existing financing, private money, and more. We'll discuss your options and explore the pros and cons in creating and brokering deals.
>> How to define and identify Value Add Multifamily (BRRRR) opportunities
Buy, rehab, rent, refinance, and repeat – this proven strategic framework allows you to build your portfolio quickly with as few expenses as possible. However, this strategy is complex, particularly at the refinancing stage, and it's important to understand how to properly define and identify the best opportunities.
>> Introduction to Wholesaling
Wholesaling in real estate involves buying properties at a discounted price and then reselling them to another buyer for a profit, without actually rehabilitating the property. It is a strategy used by real estate investors to make quick cash in the market. The key to successful wholesaling is finding properties with motivated sellers and matching them with buyers who are ready to buy.
>> Introduction to US Investing
Real estate investing in the United States involves buying, managing, and selling properties to generate passive income or profit from appreciation. It is a popular form of investment due to its potential for long-term growth and stability.. With the right strategy and due diligence, real estate investing can be a lucrative and fulfilling opportunity for any Canadian.
>> Introduction to Land Development
Real estate land development involves improving raw land to make it ready for construction, such as residential or commercial developments. This process includes activities such as site preparation, infrastructure improvement, zoning and permitting, and utilities installation. Land development requires a significant investment of time and capital, but can result in substantial profits for developers and investors if done correctly. It is an essential aspect of the real estate industry, creating new communities and shaping the built environment.
>> Learn the fundamentals of underwriting properties
Successful underwriting involves gathering data about a property, making key assumptions about how it will perform, creating a projected cash flow, and assigning a valuation. It's an art form that you must understand to succeed as a multifamily investor.
>> Learn about various million-dollar investing strategies
The strategy you follow will determine the success of your investment. But there's no one way to invest in properties. We'll explore various million-dollar strategies and help you decide which is right for you.
>> How to raise millions of dollars for your deals
The act of raising enough money to finance your deals is a vital part of the investment process. We discuss proven approaches to cultivate your network and pitch your offer in a way that entices people to invest.
>> US Investing: Cross Border Investing
Cross-border real estate investing offers Canadian investors access to new markets, properties, and investment opportunities outside of Canada. This type of investment allows Canadians to diversify their portfolios and take advantage of lower costs of living and potentially higher returns on investment in other countries. However, cross-border real estate investing also involves added risk, currency fluctuations, and differences in laws, regulations, and cultural norms. As with any investment, it is important for Canadian investors to thoroughly research the market and seek professional advice before making a decision.
>> US Investing: Finding the right team
Finding the right team for real estate investing can greatly enhance the success and profitability of an investment portfolio. A strong team can provide a range of expertise, from market analysis and property evaluation to financing and management. Having a knowledgeable and experienced team can help investors make informed decisions, minimize risks, and maximize returns. Building a team of professionals can also provide a support system for navigating the complexities of real estate investing. An effective real estate investment team can be a valuable asset in achieving long-term investment goals.
>> US Investing: Where to invest
Choosing the right city to buy real estate is a critical factor in the success of a real estate investment. Location can impact property value, rental income, and market conditions. Factors such as job opportunities, population growth, economic stability, and quality of life should be considered when selecting a city to invest in. Conducting thorough research and due diligence can help investors identify cities with strong growth potential and high demand for rental properties. Making the right choice can lead to long-term profitability and success in real estate investing.
>> Land Development: The Principals of Zoning
Zoning in real estate land development refers to the laws and regulations that determine how land can be used, including what types of buildings can be constructed and what activities can take place on the property. These principles aim to balance the needs of the community with the rights of property owners, preserving the integrity of neighbourhoods and promoting sustainable growth. Understanding zoning principles and laws is important for developers, investors, and property owners to ensure that their projects comply with local regulations and to make informed decisions about the use and development of land.
>> Land Development: Finding the right land to build on
Choosing the right land to build on is a crucial decision in real estate development. The location, zoning, topography, and infrastructure of the land can significantly impact the feasibility and profitability of a project. Factors such as access to transportation, proximity to amenities, and potential for future growth should be considered when selecting land for development. Conducting thorough research and due diligence can help ensure that the chosen land is suitable for the desired development and has the potential for long-term success. Making the right choice can lead to a successful and profitable real estate development project.
>> Land Development: Building a Land Development Business
Building a successful land development company requires careful planning, a solid understanding of the real estate market, and a strong network of industry professionals. Key steps include identifying a niche market, creating a business plan, securing financing, acquiring the right properties, and assembling a talented team. Building a reputation for quality and reliability is also important for attracting clients and investors. As with any business venture, building a land development company requires dedication, hard work, and a commitment to long-term success.
>> How to negotiate hundreds and even millions of dollars off the asking price
Expert negotiation comes from an in-depth understanding of properties and market trends. By underwriting the property thoroughly, you will be able to identify the potential – and the risks involved. This knowledge will provide you with leverage that you can use to lower the asking price.
>> How to capitalize on rising interest rates
Rising interest rates, which threaten other property investment types, can benefit multifamily investors. Not only does a strong labour market ensure a healthy market but many renters are being priced out of the buying market, further contributing to this demand. We'll discuss the opportunities for capitalizing on rising interest rates for multifamily investors.
>> How to develop and buy new-build apartment buildings
With older buildings, there's always a certain amount of risk that unforeseen problems will arise. As a general rule, new builds mean fewer headaches – which makes them prime opportunities for development and purchase. To round off the bootcamp, we'll discuss your options in this space.
>> US Investing: US Business Structures
In the United States, real estate investors have several corporate structures to choose from for their investing activities, including limited liability companies (LLCs), corporations, partnerships, and trusts. Each structure offers different levels of personal liability protection, taxation, and management flexibility. Investors should consider their goals, investment strategies, and financial situation when selecting the right corporate structure for their real estate investing activities. It is important to seek professional advice to ensure that the chosen structure meets legal requirements and supports the investor's long-term investment goals.
>> US Investing: Understanding State regulations
Understanding state regulations is crucial for successful real estate investing. Laws and regulations vary from state to state and can impact property ownership, financing, and management. Factors such as zoning, taxes, and tenant rights should be considered when making investment decisions. It is important for real estate investors to familiarize themselves with the regulations in the states where they invest, as non-compliance can lead to legal and financial consequences. Seeking professional advice and conducting thorough research can help investors make informed decisions and ensure compliance with state regulations.
>> Land Development: Finding Builders
Finding qualified builders is essential for the success of a land development project. A builder with experience, expertise, and a proven track record of delivering high-quality projects on time and within budget can ensure that the development is completed to the highest standards. Working with a qualified builder can also help mitigate risks, resolve issues, and ensure that the project complies with local regulations. It is important for developers and investors to thoroughly research potential builders and select one that has the skills and resources to deliver their project. A qualified builder is a critical component of a successful land development project.
>>Land Development: Raising Capital
Raising capital for land development projects requires a comprehensive approach that includes identifying funding sources, creating a compelling investment case, and building a network of investors and lenders. Options for financing land development projects include traditional bank loans, private equity financing, joint ventures, and crowdfunding. It is important for developers to have a solid business plan, a clear understanding of their project's financial needs, and a strong track record of successful projects. Building relationships with investors and lenders, as well as demonstrating a commitment to transparency and communication, can help attract capital for land development projects.
About WealthGenius
WealthGenius is an invite-only community that specializes in helping multifamily investors to maximize their impact in the real estate market. Co-Founded by Alfonso Cuadra and Ed Hervias, WealthGenius is a community of supportive real estate investors who seek to build each other up while also solidifying their place in the market.
FAQs
How much does each ticket cost?
Each ticket costs $387, which includes full admission to the 2-day bootcamp for the ticket holder and one additional guest. Each ticket also includes a workbook.
Does the extra guest get access to all the same benefits?
Yes, the guest receives all the benefits as the original ticket holder, including full, in-person access to the content, the workbook, and more.
How long does each day last?
Each day of the bootcamp will last from 9 am to 5 pm, with an hour set aside for lunch. Doors open at 8:15 am each day.
Will there be networking opportunities?
Yes! The doors open at 8:15 am so attendees can have some time to network before each day begins. You will also have the opportunity to stay behind afterwards for an hour or two. We also encourage attendees to connect on the Facebook group to arrange potential after-event meet ups, such as dinner, drinks, etc.
Do you recommend this bootcamp for someone who has never invested in multifamily before?
While you don't need to have experience in multifamily investing, this bootcamp is for individuals who are serious about getting started or leveling up their investment efforts. We don't recommend the bootcamp for those who are casually interested in finding out more about multifamily investment.
Do I need to bring a laptop computer?
There is no official technology requirement to attend this bootcamp. That said, you are welcome to bring your laptop to keep notes, etc., if you wish.
Is lunch included in the ticket price?
No, lunch is not included in the price. We recommend bringing a packed lunch or purchasing your lunch on the day. There are a number of healthy options close to the event space.