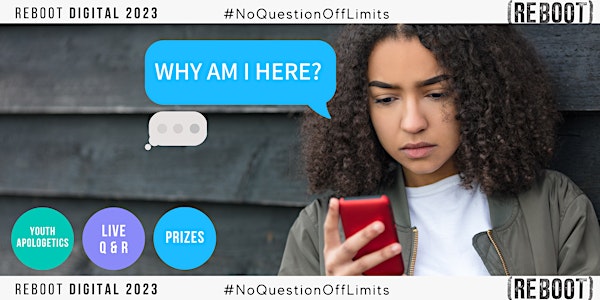 Reboot Digital 2023: Why Am I Here?
At Reboot, youth are safe to raise their questions about God and life, and can expect kind and credible responses.
About this event
REBOOT DIGITAL FEB. 3rd, 2023
Reboot Digital is a nationwide free youth apologetics event. Joining us this year is Professor John Lennox (Emeritus Professor of Mathematics, Oxford University). During our time we'll be covering the topic "Why am I Here?", exploring questions of meaning and purpose. To top off the evening, we'll be doing a live Q&R responding to your youth's most difficult and meaningful questions about God.
YOUR YOUTH GROUP'S QUESTIONS
Please send your youth's apologetics questions to alanzo.paul@theocca.org. During our time of Question and Response (Q&R) with John Lennox, we want to directly answer your youth group's burning questions about God and life #NoQuestionOffLimits. We will do our best to get through as many questions as we can! Send by January 31.
WINNER WINNER CHICKEN DINNER
During the Reboot Digital event, take pictures of your youth group doing something creative for a chance to win our grand prize! To enter, post your picture(s) on social media with the following hashtag: #rebootglobal. The most fun and creative picture will win the youth group a £100 gift card to cheeky Nandos! Let the games begin!!
YOUTUBE URL: This URL will be sent by email. Scroll down the email to find the link. Please make sure to register your youth group in order to receive that URL.
EVENT SCHEDULE
• Welcome @ 7:30 pm GMT
• "Why Am I Here?" by Alanzo Julian Paul
• The Story of a Medical Student's passion for Jesus
• "Why Am I Here?" John Lennox Interview by Clare Williams
• A Special Announcement
• Q & R with John Lennox, Clare Williams, and Alanzo Julian Paul
• Close @ 8:30 pm GMT
As 2023 begins, we look forward to digitally gathering together at Reboot Digital! #NoQuestionOffLimits