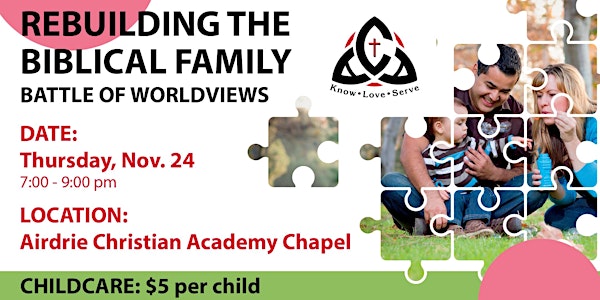 REBUILDING THE BIBLICAL FAMILY
ACA Family and Friends Connection Night
When and where
Location
Airdrie Christian Academy - Chapel 77 Gateway Drive Northeast Airdrie, AB T4B 0J6 Canada
About this event
You are invited to a presentation by Neil Campbell and Paul Holmes from Family Foundations Canada.
Rebuilding the Biblical Family - Battle of Worldviews
In this workshop we will at look how you can build strong families and disciple the next generation with kingdom values. We will also look at how to equip the men to get engaged and become the prophet, priest and king of their homes. This workshop will include a Q&A time where you engage and learn about free resources that are available to help families.
ABOUT THE PRESENTER:
Neil Campbell is the National Directors of Family Foundations Canada and is the founder of the Family Dream Institute. For the past 40 years, Neil and his wife Annette have been working with families helping to equip them to teach, train and bless their children. They have a passion to see marriages healed and families strengthened in Canada and around the world.
-------------------------------------------------------------------------------------------------
PRE-REGISTER FOR CHILD CARE FOR OUR CONNECTIONS NIGHT
(Infant - Grade 5)
Back by popular demand, we are providing childcare for our Connections Night!
To help us plan for adequate child care, please register for the event and childcare services if required.
The fee for childcare is $5.00 per child and MUST be prepaid.
Registration for child care closes at 12:00 noon Thursday, November 24!
Payments may be e-Transferred to generalpayments@airdriechristian.com
Please state in the comments section of the e-Transfer what the payment is for.
-------------------------------------------------------------------------------------------------
CONNECTION NIGHTS! WHAT ARE THEY?
At ACA, we value the connection that we have with each other. School families, students, teachers and staff as a whole.
With that in mind, we hold connection meetings throughout the year to come together for fellowship, learning and growth.
The school offers 3-4 connection nights throughout the school year. These conversations give parents the tools and resources to assist their children at different stages in life.
A few examples of topics we have covered in past connections nights include the following:
Depression & Anxiety in children
Raising children with different personality types
Love and Logic Parenting
Cyber safety
Pornography
Our goal for the evening is to build strong families and disciple the next generation with kingdom values.