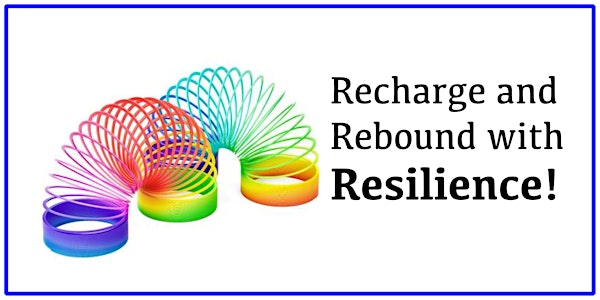 Recharge and Rebound with Resilience!
Description
Real Impact presents…Recharge and Rebound with Resilience!
A free, interactive webinar with Randall Vickerson.

About this Event
Could you use an injection of happiness and fun right now? Are you game to learn some new skills to help you weather the storms that life brings? Did you just shout 'YES!' to an empty room like you scratched a winning lottery ticket and woke your sleeping cat?!
Then you're a perfect candidate to join Recharge and Rebound with Resilience! — a FUN, FREE online workshop-community gathering. Learn how happiness and resiliency are linked in this fast-paced and interactive webinar that's equal parts laughter, learning and community building. Learn valuable skills that you can apply in all areas of your life.
Why you? Why now?
People who are resilient tend to find more positive outcomes in life, see hope in dire situations and view adversities as challenges to overcome which can lead to greater success in life. As we all adjust to new routines and health and safety protocols (thanks to a teeny virus), many people report feeling a bit out of sorts while others are increasingly anxious and worried about the unknown. That's why you should join us for an evening of connecting with people while learning how to be more resilient — and lift your spirits in the safety of your own home.
Details
Wednesday, April 15, 2020, 7 PM MDT (9PM EDT)
The event will begin at 7:00 PM MDT via Zoom and will run for approx 90 minutes.
* A computer camera and microphone are required to fully participate in the session *
Please register in advance for this online event and provide your email address.
On the day of the event, the Organizer will send you the webinar access link.


---
Further Info
A Special Note: This event is a fundraiser for The Centre for Global Education. TCGE is based out of Edmonton's Queen Elizabeth High School and offers programs to encourage high school students to become active global citizens. While this event is free to participants, we encourage you to consider making a donation online to help this exciting program support our local students connect and learn with others from around the world. Details on how to donate will be presented on April 15th. For more info on TCGE: http://tcge.tiged.org/about.html
This event was previously planned to be held in-person at an Edmonton pub on April 15th. After a few weeks of social distancing and people growing more tense with daily news updates, we decided to revamp and offer this gift of time and training to Edmontonians (and other friends across the country!) who we think can benefit now more than ever.


Randall Vickerson will guide you through this engaging and interactive session and will help you discover new ways to view life's challenges. Originally from Alberta, Randall is a passionate energetic speaker and leadership coach who is based in Toronto. Randall has worked with many organizational and company leaders around the world, and he is excited to share his resiliency insights and expertise with you for this one-of-a-kind fun night 'out' (well - actually 'in' - but we can pretend!).
https://solutiondevelopmentgroup.com/